The current technological world is facing a lot of crisis when it comes to content development and content marketing. The need for content development has highly improved in a span of time. This made companies rely on Information and Communications Technology (ICT) which indeed reinforces content development process. In this post, we are going to see how ICT is going to contribute towards the development of content.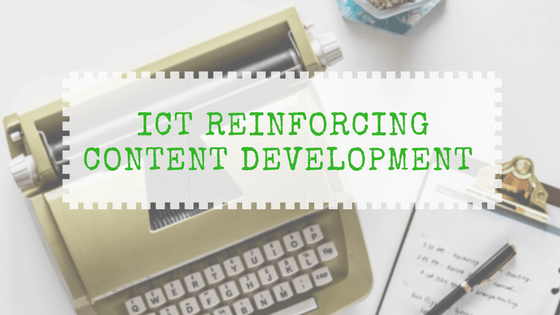 What is ICT?
ICT is the abbreviation of Information and Communications Technology. It is the infrastructure and components that enable modern computing. It gives users an ease of interacting with the digital world. This clearly states that any information on the web could be easily driven by the components of ICT. This is not exceptional for businesses.
The components of ICT:
The components of ICT are comprehensive, it includes computers and laptops. The smartphones, robots and digital TVs are new entries. There are several other components that are considered to be helpful and can benefit businesses in the long run. Some components of ICT include,
Cloud Computing
Internet Access
Software
Hardware
Transactions
Communications Technology
Data
These technological components are involved in order to help people and organizations to interact with the digital world. By this people will be able to move around communities, interact and gather information as well.
What is content development?
Content development is a method that is handled in order to research, generate and broadcast a content
that meets certain goals. These goals are meant to meet the needs of a business and to improve the sales funnel.
Content development is a vital part of business development.
Business enthusiasts believe that promotions could do much better than any other strategies. The question is what do they promote? A simple truth to such believers, without content generation process you cannot promote your product or service to your audience.
Thus, content generation is an important aspect of the content development process. One can never build or expand the sales funnel without the involvement of content.
How content development differs from publishing content?
There is a huge difference between content developers and publishers. Publishers are entirely different from content developers. At the end of the day, publishers are just meant to publish their content whereas the content developers follow a process that includes theory, accomplishment, analysis, and iteration.
The major purpose of content development is acquiring a determined outcome. The outcome should be the generation of leads or buying a product.
More than publisher's contribution, the content development process could pay a lot towards a business development. And this is the actual reason why businesses rely on content development processes.
What is the role of ICT in content development?
Information is the richest resource for content development. People across the world make use of various resources in order to gather information. And there is a lot of information that is available online.
The biggest disadvantage of using information from the web is, they may not be genuine. There are resources that can provide you quality information. Relying on them is worthwhile. But, where can you find them?
This is where Information and Communications Technology help you. The ICT is flexible to those who wish to derive information from genuine resources. ICT is an infrastructure where you gather all
Information from resources that are trustworthy.
The infrastructure helps you to explore and discover the most on the web and even communicate with people who can guide you on content deals. This is something that is similar to the blockchain technology. The ICT enables content creation to communicate and exchange ideas through platforms like social networking sites, video conferencing and instant messaging apps.
The internet also provides tools for content creation. These tools are used as software that need to be purchased by users. Added there are open-source software versions available on the internet requiring users to have a basic terminal which is the mobile access or smartphone access.
The biggest opportunity that every content developer obtains through the internet is the potential to generate content, spread information widely and instantly at very low cost.
The following are some of the strategies that are involved in a content development process that is reinforced by ICT,
An approach towards content creation tools:
Internet access is not just the tool that is required for content development. There are other types of ICT equipment such as computers, mobile phones, scanners and AV recorders that serves best for digital content creation.
Trade barriers and taxes that restricts the improvement or production of these devices could highly impact the effect of local content creation and distribution at the local level.
ICT development without signs:
Installing incubators for small ICT businesses would be highly beneficial. You develop a separate infrastructure where you connect with communities through ICT devices.
Building ICT parks are essential in pulling external investments which obviously expands the sales funnel of every business. It also attracts the external investments in local ICT and content space.
Exciting venture capital is the foremost support for establishments and growth of ICT startups.
Scope building:
Developing local content, recording and sharing them through a certain beneficial set of skills and tools.
Building regional standards for informational learning.
Raising awareness on benefits of ICTs
Regional online learning resources.
Content trials:
Competitions and awards could provide an incentive to the community at a huge level to resolve on local issues.
Media coverage of events build unique opportunities to create buzz on local content development.
All these strategies are the important measures that are taken towards the development of content standards. Make sure the involvement of technology also includes security. Most integrations and reinforcements lack security which has become the greatest cause of content theft.
There are chances of losing content during content migration and it is really needed to check on security. The ITC provides a better infrastructure for developing and sharing of content, yet there are certain disadvantages that one should be mindful of. Neglecting specific strategies on your content generation process could put you under crisis.
Getting an ICT reinforced content development system could help you in many ways. It makes your sales funnel broader, improves the quality of content generation and sets your goals ahead of your competitors.