To kickstart with content strategies this 2018 and line up with the sales funnel, you need to understand your customer's journey before their purchase. And that is the prior step you need to carry out before processing your content marketing campaign.
A simple sales funnel undergoes the following three important stages;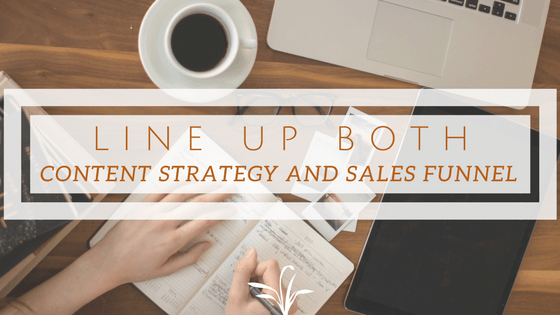 Awareness stage:
Awareness stage initiates the tunnel. Here customers come in search of answers to their questions. It involves a basic research and perceptive wisdom.
Consideration stage:
This is the evaluation stage which falls in the middle of your sales funnel. This involves your audience with a focused research on how your product or service works better than your competitors.
Purchase stage:
The falls in the rear part of sales funnel. This is a chance where you convert your potential customers into buyers. This is possible when you give it a push by declaring your position of authority in the industry. You could even make use of discount codes and promotions that can create wonders.
Every single stage is really important in the funnel. And remember, not all potential customers can be at the final stage of your sales funnel. Trying to know your buyer persona is really important in order to frame content that makes customers purchase.
Aligning content strategies with sales funnel:
It is good to have a sequential plan which cuts down your time and effort down the lane.
Determining content needs for your sales channel, creating a foundational content, building an editorial calendar, finally, repurposing is the four main hooks. All these are applicable when you partner up every single stage of your channel.
Step #1: Determining content needs:
Ideation is as much important as any other aspects of sales. Getting your ideas placed will make sure that the content you pair with the sales channel stages is effective.
So how to proceed? You need to map your buyer's persona. The data you collect involves your audience's interest, their pain points and demographics such as age, sex, location and so on. The initial step of data collection is essential as you could personalize the content according to buyer's persona. This could be done as a user travels the sales channel.
Awareness:
You build awareness of your brand, business, product or service through attractive content. This is where you build relationships. Blogs and social media platforms are the biggest property for building awareness. Updating awareness-geared content on social platforms can help buyers to like your post, comment and even share with their friends and followers.
By this way, your audience is getting familiar with your brand and services that you offer. And now you head the list using these strategies.
Consideration:
Now you are connected to your target audience and that you are capable of communicating with them in a meaningful way. With buyer persona, you need to feed your customers with tailored blogs via emails, newsletters, and social media.
This could be sales intensive. With the evaluation stage content, you could highlight the benefits of your product or service. Later, your content should address the pain points that your buyer persona faces.
Influencer marketing has so much to help with evaluation stage. As when an influencer reviews a product it builds instant trust among buyers.
Purchase:
The end stage of a sales funnel is the purchase. This is the very important step that brings conversions. In order to push your customers furthermore to check you need to generate content that proves your authority.
You could develop white papers, ebooks, case studies, and powerful testimonials are the best proposal content to direct customers to make purchases. To add more value to your content, you could add discount offers with the limited time frame and find your conversion ratio increase.
Step #2: Create foundational content:
Foundational content will be at the center of your content strategy. This content is protracted, deep, and if done right, can influence aligning it with your sales channel simply later on.
This in-depth content can be attractive to create future infographics, online journals, Facebook and YouTube recordings, and web-based social networking posts, email advertising efforts, and considerably more.
Be that as it may, how would you know where to start? How would you make this for your content procedure? All things considered, with your business channel buyer personas close by, you can start sorting out keyword buckets for unique purchaser persona and deals channel arrange blending.
Keyword research:
Keyword research is the key term that you need to make use of. There are a lot of keyword research tools available these days and Google stands ahead of any other tool. You can make use of the tool to get on track with buyer persona.
Competitive keyword search:
You could create a robust keyword container by searching for a competitive keyword search. You could make use of Ahref tool which is a competitor analysis tool. You can even make use of Google search tool to find your competitive keyword.
On merging both keyword planner tool and Ahref you would find a lot of phrases that could better help you compete the big crowd. And with these plenty of keywords, you could generate foundational content that you need to move to your content strategy in the simplest way.
Step #3: Repurpose your foundational content:
Once you are done with the foundational content, repurposing the content to help you out with various initiatives. When you drag a little from your foundational content for your themes and sub-themes it would annoy some of the compelling sales funnel properties.
If you wish to develop an eBook, each theme you have distinguished can be a particular section of your digital book. Every section can be a month to month theme, while your digital book sub-themes can be utilized for a week by week writes.
The information you use for each sub-theme can likewise be placed in an eye-grabbing infographic. As Infographics are incredible resources for any content procedure. You can repurpose that information for web journals, email showcasing efforts, blogger outreach, social posts, online courses, and recordings.
Dissolving repurposing down:
Consider if one of the foundational extracts is your ebook, there are around 30 properties within the content that can be repurposed. Using each of this content you could generate atleast a minimum of 10 social media posts. This improves to 300 social media posts later which indeed improves your sales tunnel in just a month.
These 30 content can also be used as 30 blogs. So it calculates as a blog per day which obviously counts to be 30 blogs 30 days. You can involve a few data sets on the content and turn them into Infographic images.
The ultimate need to repurpose content is to develop assets, themes, sub-themes from one single piece of foundational content. This will yield a list of connective content with each buyer persona at various stages of the sales funnel.
Final word:
In order to reap a huge outcome from your sales funnel you it is required to map your sales funnel along with your content strategy. Understanding every stage of the sales channel and identifying the buyer persona is one valuable step that you have skipped these days.
Your content has to revolve around the foundational portions as well. You achieve the most from these assets. Getting it all aligned on the editorial calendar will help your marketing efforts more effective and focused to turn leads into conversions.