It is very obvious that we content generators feel improving a tedious industry through content marketing techniques will definitely go in vain.
You need to rethink it!
Content marketing could work anywhere, it could definitely work in any management or niche. I am able to understand that what beliefs make you think that content marketing plan will not work for such industries.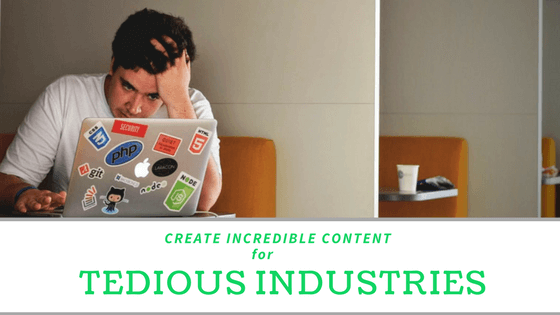 This post is going to help you out with it. I will walk you through the topic, on implementing content marketing strategies on Boring businesses. Let me explain you a few beliefs that you should have when it comes to content marketing over Boring industries. I would also introduce a few more strategies that you can implement in order to achieve results.
With the ideas and strategies that you gain from this post, you will be able to create an incredible content that fits any industry. And very soon you will learn how to generate content for any kind of industry.
Let's Get Started!!!
Understand that your industry isn't lifeless as you think:
Never ever try to underestimate your industry in which you work. The ultimate motto is "You are generating content for a business, and the business is meant to solve problems".
People come in search of solutions from your business and the content that you provide could help them solve their business issues. Every one of us would have come across a video that helped us at the point of our need.
For example, if your bike's spark plug has stopped working and you need to get it fixed. A sudden popup video illustrating on how to clean your bike spark plug turns to be very helpful and adds up value. This could be a contrasting perspective for someone who is not related to the topic. They also find it to be boring. Will it impact a person like your sister or mom?
To the point, interesting content needs to be subjective similarly they depend on business and lifestyle. One of the important strategies is to catch people at the instance in life where they would need guidance. Make sure that your content meets their requirements at the very point. Hope you got the point.
There are chances where you might have a question, "How to make my content interesting that helps viewers, even when they are not looking out for such answers?" – A very common problem that most content marketers face especially while improving brand standards. You need to have a note on two important factors,
You could generate content that engages the audience and even makes layman find your content interesting. The information that you podcast becomes interesting only when it is presented in an interesting way. On the other hand, if your viewer does not need your solution, it doesn't mean that they will never need it. And that is why you need to concentrate on the following,
Assess customer's current status:
It is good to examine your customer's status before you could proceed. Customers who need your content now may not later as your content should be appealing in front of them at the time of their purchase. For example, if your customer is a little behind on the customer journey, you could help your customers to move forward. Hence this makes your content marketing efforts effective and fruitful.
This is the keynote as it helps to create content while promoting a product of your apparently Boring industry. So before you could start with generating content try to understand the stage in which your customer is in?
Now let us see how to generate content for a customer who is in a specific stage.
Creating content that engages a customer in need:
Consider that you generating solution-oriented content for a waste management company which is supposedly a Tedious industry. Now ask yourself "What makes all existing customers reach you?"
1. Are they trying to make business Eco-friendly?
2. Have they moved to a new location?
3. Looking out to lessen business cost?
4. Looking out for a new revenue source?
All these information could help you identify, "Which stage of customers journey are your clients traveling". On providing them a solution that best fits their current situation could help your business to be positioned to the next level. You could create content that is ahead of your customer's stage which could be better understood through case studies.
Case studies are the better way to form effective content. Moreover, 54% of content marketers find their way through case studies. Your content is not supposed to the one that just presents information using facts and figures. Rather it should approach your customers in a way that if you were narrating them a story. This is strictly followed as it is important to relate to the case study.
Allowing people to interact with your industry:
Content marketing should relate to the creation of content that provides a solution to your problems. Nearly 82% of companies generate content just to increase brand awareness, hence the following tips could help you in a better way.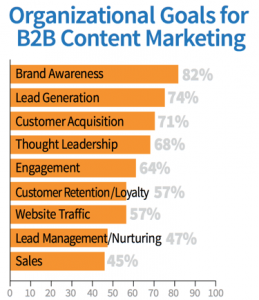 Let's perform some research to discover content marketing ideas for waste management industry as you are not creating content specifically to solve problems. Let us explore it through Reddit. It gives you a chance to work on questions that people are looking for in waste management industry.
Let's start,
First, all you need to do is head into Reddit and enter the search term that relates your industry. You will find even the delusions that people have about your industry.
The below image represents the results of the search term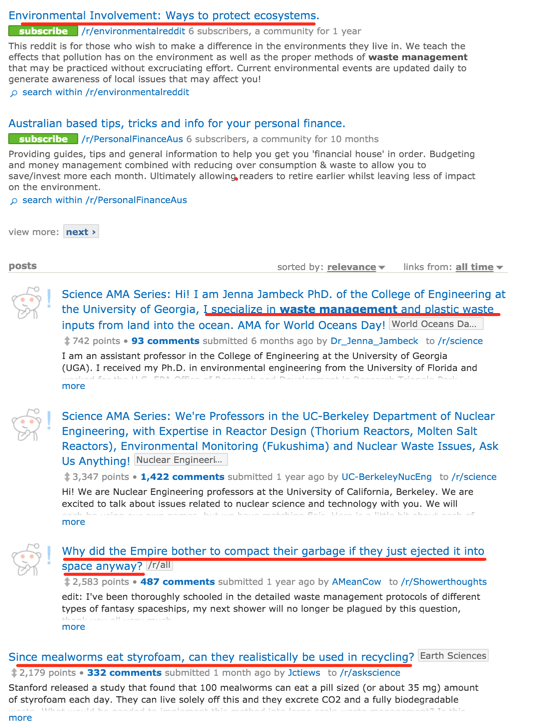 Image source: Reddit
The highlighted portion helps you better understand topics for which you need to generate content. At the same time, the highlighted points could help you deal with the challenges that your company face with waste and plastic. You could also describe how your company is contributing towards innovation and dealing with the problem.
if you click on the thread you will also know what people want to know further – potential content idea.If you are going to create content based on such recent trends and topics you ought to gain more interaction with your customer.
Create consuming content:
In case if your writing on a specific topic with more complex and in-depth information it presents content such that it is easy enough to consume. This simply means you make your content more easy enough for them to understand. There are few ways that you need to concentrate.
Let us start with an example:
The effective way of content marketing is through blog posts. An analysis states 65-68% of B2B marketers make use of blog content for their determined content marketing. At the same time, long drafted posts work much better in the content marketing world. If you wish to stand out of the crowd you need to create in-depth posts. And that doesn't mean that creating bundles of posts could bring you a hell lot of success. Content that is well furnished with an effective image is good players than the normal ones.
Make sure to have images and Infographic on your content that it obtains more view. A recent research has proved that content of such kind finds gains about 94% views. This is one of the strategies that need your attention.
The next would be proceeded by the table of contents. If you are a WordPress user you could make use of the plugin to list out the contents that you have added to your content. This simply helps your readers to easily understand your content.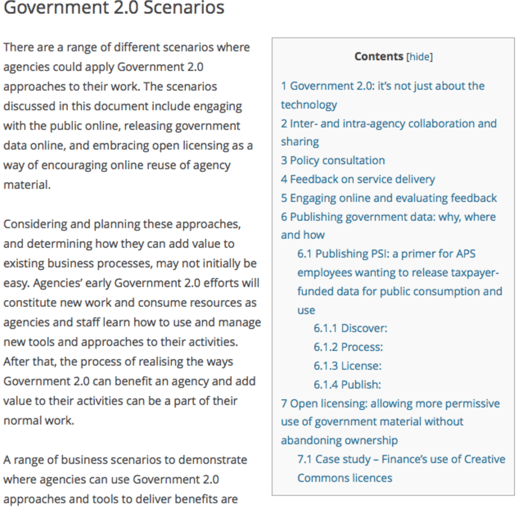 Using bulletin points could add more attraction to your content. When it comes to usage of images, there are two types of images, one is screenshots and the other is statistical images which includes bar graphs and pie chart.
By the way when you use Google image search make sure that you make use of images that are labeled for reuse. The following images help you to find such images.


Using this search you could also use statistical images that could help you. For example, on the search tab, you could type twitter stats to find statistics on twitter platform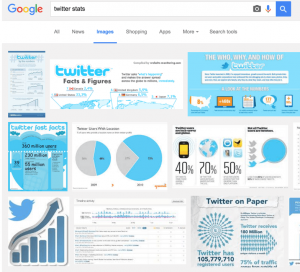 Make sure to provide proper approval for the images that you provide in your blog posts. Also, remember images are not the only way of carrying your content, you could also involve videos. As analysis states that 60% and more B2B marketers make use of videos as an effective way of content marketing whereas 66-68% of marketers use YouTube to perform the same.
You could hire cost-effective video makers to build you quality videos for your post. It is far better to make it yourself in order to reduce cost.
You could still go down the lane to create Webinar that is powerful either;
There are several ways to create Webinar but one practical way is through creating slides by your own. Make sure to have images that are really appealing to your viewers. The most important of them all is having your content very clear. Moreover, 48% of attendees confess Webinar are quite interesting even when the presenter is poor.
Do not take that as your advantage, always try to prepare ahead of your presentation. This helps people to learn something from your content. Webinar needs to be recorded as they may be helpful for later purposes. They can serve even for the ones who have failed to attend the Webinar even after signing up. Analysis proves 16% of B2B consumers prefer live Webinar.
At last, you can create SlideShare presentations,
49% of B2B marketers shows interest towards SlideShare for content promotion. It is good to have the decent amount of words on your slides. Always try not to exceed 25 words on each slide. You can even make use of effective images to replace texts.
Conclusion:
Is your content marketing profession troublesome as you deal with a Boring industry? There is nothing such as "DULL" Industry. Make sure that if your industry is providing the solution, then try to make it interesting enough for your viewers. You need to under your customers through their buying journey.
If you are capable enough to understand the current stage of your customer's journey, then you could guide them to the next stage with a complete solution. This is where you build trust with your customers and make them return to you for their solution in their buyer's journey.
We have also explored on how to engage content to improve "Brand awareness". No matter what approach you choose you should be able to put your 100% effort to make it valuable for your customers. Hope you are going to build something strong that adds up value to your brand.
What have you found to work out best, with regards to making content for a 'DULL' industry?
Comments ()