When one of our LinkedIn connections approached us regarding the improvements that he wish to make for his blogging career, we intended to offer him a chance to guest post on our blogging site. When we approached him, the very first thing that he asked us for is the Domain authority. Though he is someone new to the blogging culture, he was still mindful to share his posts only on a higher DA.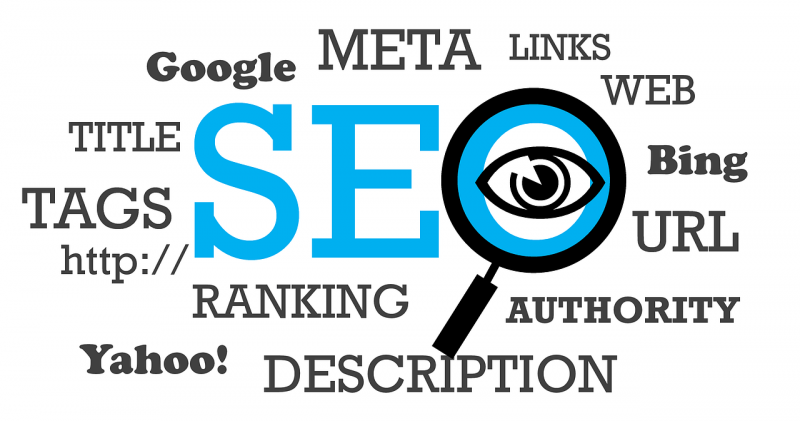 This is something that every marketer wish to do. Nobody wishes to get their content shared or receiving a backlink from a poor domain authority.
And that's the reason we planned to write this post. No matter what kind of business you are running, every marketer wish to rank on the #1 position of the SERP. But most fail in achieving this task through their common Search Engine Optimization Strategies.
If you are one among struggling to improve your domain authority, then let us help you with some effective steps that allow you to increase your domain authority.
Let's Get Started!!!
Before we get into topic let us explain to you what domain authority is and what is the need to improve domain authority.
What is domain authority?
Domain Authority is something that describes search engine ranking score developed by Moz. This score predicts how good a website ranks on a search engine results page.
It is calculated by determining the linking root domains, number of links, Moz Rank, Moz Trust, etc.,
If your website is going to satisfy all such criteria with a good score then am sure your website will obtain the position that you expect.
In order to find domain authority of your website, you need to do the following,
Visit Moz.com, select the Moz pro and click on the Open Site Explorer to check your current domain authority.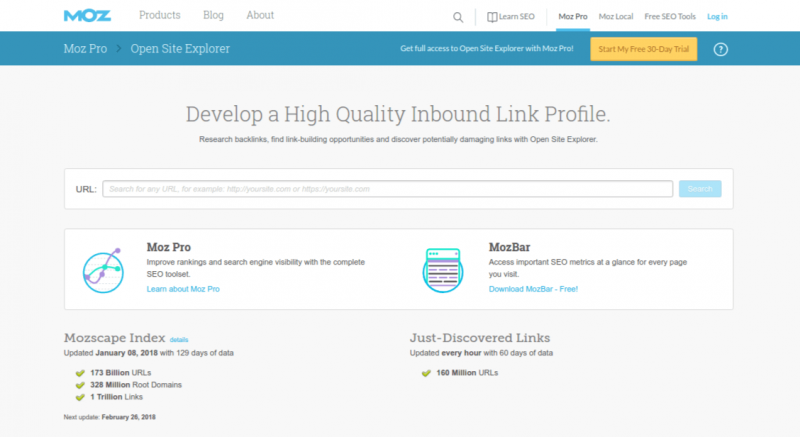 Once you enter the explorer, you will find the search tab at the center. Enter your domain name on the search tab and click the search tab. The site explorer displays your domain authority. The domain authority score ranks from 0 – 100. Most DAs flutter at an average of 40-60 marks. This is applicable only for sites that invest more time in building authority, backlinks, and traffic. But you cannot expect the same for brand new sites.
Do not be dismayed if your DA is low. You can build it really well.
Let us have a look at what makes up domain authority.
Domain authority can never be determined using a specific algorithm. But Moz has a secret algorithm for it as Google does. However, there are a few factors that determine domain authority.
Moz Rank
Moz Trust
Link Profile
It is believed that there are various factors that constitute domain authority, so it wouldn't be a simple task to improve DA with simple metrics.
Domain Authority is one of the strategies of SEO and thinking about it should be a part of SEO strategy. This is where most people make mistake. They consider that the DA alone is an overall strategy. But DA is composed along with several other strategies.
With this in mind let us have a look at some of the strategies to improve your domain authority.
Link audit:
A link audit is something that helps you to find the number links that pour into your website. If you are looking out to improve your DA, your website should have healthy links.
It is because Google likes links from a healthy profile and that is why it is recommended to have such high authority profiles. At the same time, one should be aware of other link strategies that allow Google to penalize your website.
Here is an official list of Google that explains on prohibited link schemes;
In case, if your website is holding links that match the above-mentioned criteria make sure that you remove them immediately. There are many better ways to generate great backlinks. Before you engage yourself in generating backlinks, you need to assess your current link situation. For this, you could make use of certain tools that help you to find the current scenario of your present links.
Once you have completed your analysis make sure that you remove all the unwanted links from your website. Now let us walk you through some genuine steps that can help you to improve your domain authority gradually.
Obtain high-quality links:
There are several in generating quality links we would like to share a few of them that might help you in generating better link schema.
No matter what kind of link you create it is important that you generate quality content that attracts your customers. That might sound common, but it is an essential part of a great link-building strategy. When you create awesome content, automatically sites of other niche wish to share their links on your website. Once you have started to generate such content, then there are several ways to obtain those links.
We would like to introduce a few methods that we like doing,
Q&A sites are the best way to share links. In case if someone is looking out for an answer to their question, one can share their answer with a relevant link, if they're in the same niche. Make sure that the answer you share is relevant to the question that they have asked. Do not share your answers only with a motive to share your links, If you are going to do so, you create a bad impression among your followers.
Consider the following example on quora,
A person has raised his query on developing a mobile app, you could find that 6 people have answered to the question.

In the below image you could find a person has replied to the question with a relevant answer along with his link hidden in it.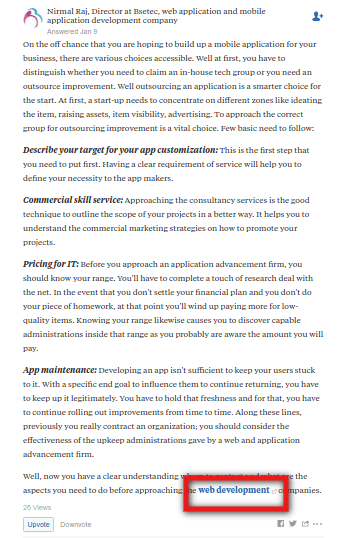 A link is not necessarily to be hidden in the answer, rather one could make it possibly appear on the screen if the answer and the link are interdependent. By this method, you can build links to your website.
Generating links in the right way can help your website DA mount.
Generate content that your readers love:
The biggest drawback of obtaining backlinks through the method that we have shared is the content. If you are not capable of generating quality, unique content that your readers love then you can never generate links. As we always claim content are the best attention grabbers. Only when your content is easily approachable, user-friendly, you will be able to obtain good links.
You have the problem creating content that hardly attracts your viewers, then here are a few steps you need to follow.
We always stick to a pattern, that keeps us ahead of other writers. We believe that most writers follow the same strategy. If you wish to generate content that really attracts your customers then you could also follow the same method. Always keep in mind, whenever you develop a content, make sure that the content is unique as well as informative. When you fail to create one such you can never bother your readers.
When you are generating content that is really informative, then it definitely reaches a word count of 2000 or above. It does not necessarily have to reach such word count. Still lengthy content obtains such behaviorism.
The secondary is the presentation. Have a look at one of our post. You could find a lot of space in the content. We have never exceeded 2 – 3 lines in a paragraph. This improves readability.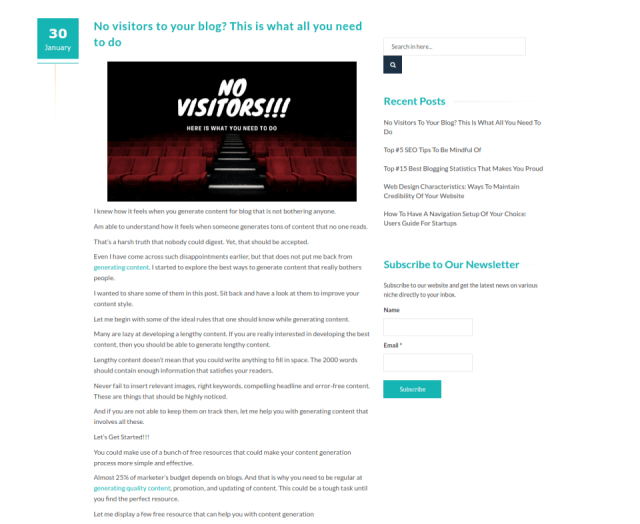 People always love to read content at an elementary grade level. This populates the content as it is easy to read. There are various other content marketers like copy blogger, Neil Patel who follow the same strategy. This is because they knew their customer's expectations and they provide them the same.
The other strategy to develop an attractive content is by including appealing images, videos, and infographics. When you frame content that is attractive make sure you add more essence to it with your appealing media files.
By this, you gain a more interest and even trust from your readers.
Breaking down SEO:
There is no specific strategy or technique that can be used to improvise DA. The only suggestion to improve DA is through performing well at both On-page and Off-page techniques.
We would suggest a few techniques that you really need to concentrate.
Title tags and Meta descriptions are the key factors of an On-page SEO. This could help search engines to track your content easily and even your DA grows up.
The other part is the mobile-first index. As traffic is highly noticed in mobile it is good that you concentrate on mobile-first indexing. In order to achieve this you need to have a responsive design and without any maddening interstitials.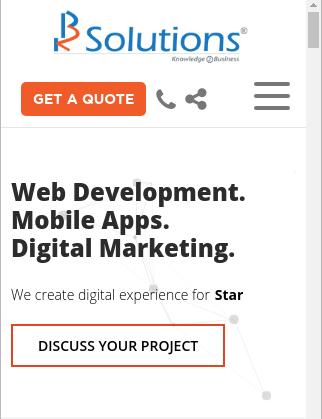 At the same time perform mobile keyword research. Also concentrate on the other aspects such as the site speed, user experience, and site navigations.
By looking into all of these strategies, you could definitely achieve what you wish to have through your website.
Now, all that you need to do is make sure that you organize all of these steps. When you attempt to follow these steps regularly and automate them, then we promise you, you will never miss the chance of improving your DA.
Final word:
You have it all in your hand. Am sure that this takes just a few weeks to obtain great results. And damn sure that this works much better than you expect. And am dare to tell you, if you are going to miss or skip any of the above-mentioned strategies then your going to definitely miss the chance of improving your DA.
On following these steps one by one you will see a definite increase in your domain authority. We would also recommend you to focus on more DA with a long-term SEO strategy.
Planning for a better DA with these steps?
Never fail to let us know your success stories.
Comments ()