What Is Social Media?
A medium of cooperative online communication channels dedicated to the entire community providing authority over input, interaction, content distribution and partnership.
In simple words,
Social refers to, "Collaboration with society, along with the exchange of data and information."
Media refers to the medium through which the exchange process takes place.
The combination of both words describes that social media is a web-based tool that promotes interaction along with sharing and consumption of information.
Why Choose Social Media?
Social media websites have grown farther within a very short span of time. And it is no more the same traditional way it was before. People have started to communicate through these networks to actively promote their ideas.

ALSO CHECK: Why Social Media Marketing is better than Traditional Marketing?
Some of the standard features of social media are as follows,
Characteristics Of Social Media:
Social media could eventually help you in promoting your business and services, and delivering the following features in innovative way can make your business website fall ahead in the stream.
User Accounts:
User accounts are the key for someone to login to the social world. Once they login into the social network, they will have to provide their information, which could help them in sharing their profile with others online.
Profile Pages:
Profile pages speak of a person or a business or a product or even a service. It depends on the creator who creates the page for his/her particular reason.
Typical Fields On a Social Media Website:
Friends, followers, groups and some more aspects help to connect a user with some other user. The process of collaborating with other users can be on any beneficiary motive.
News Feed:
On connecting a current account with other users provides information on activities they share on social networks. The newsfeed is where one could get a complete biography of a personality which could benefit them on some information.
These are the fundamental aspects that help anyone on social media to discover and explore more on information they require.
How Social Media Converts Leads Into Customers?
At recent times, the impact of social media has reached its peak over users. From kids to aged personalities have started to use social media websites to keep them engaged as well as updated on the current trends of the world. Now let us have a look at a recent analysis on how many visitors visit these websites on a monthly basis.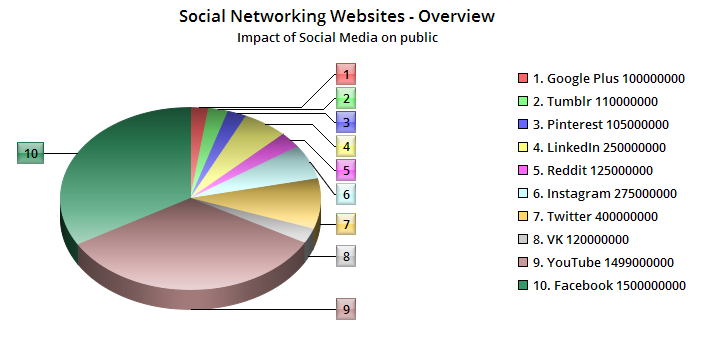 The graph explains that social media has spread its wings, to the extent that no one in the universe stays without using it even for an hour. And that is why business promoters use this medium to carry their business to their customers.
Comparison Between Social Media And Social Networking:
The simplest way to understand the difference between social media and social networking is by parting the words. 'Media' projects itself as the information that you share as an article, video, image or any other form of data. On the other hand connecting with your network of people is just called as 'networking'. For example, your friends, relatives, colleagues, customers, and mentors. That might even include strangers.
Some or the other way one relates to another, and that is why people get confused very often with both the terminologies. So how could social media contribute to your business website?
ALSO CHECK: Social Media Marketing – Party Like Easy and Market Crazy
For example, if you have developed or created a new product and you need to get it displayed what you will do? You try to find the exact platform on which it could present relevantly and that it could gain decent visitors who show interest in the product.
To make it in a better sense, nowadays business personalities and service providers own their websites. And there are numerous websites available on the internet. But many fail to promote their website correctly. The only best source that could probably take your business to the next level is the social media network.
You can straight away carry your business to the next step. No matter what kind of business you run. One can make use of the social media to target a set of audience to lift their business. Once if you understand the strength of social media, you can automatically use it for delivering an excellent service. Following are some of the ways to enhance your business using social media.
ALSO CHECK: How to enhance your business using social media?
To grab the attention of your customers, you can make use of Facebook, Twitter, Linkedin and other social media websites that provide a great opportunity. The campaign could be done by creating an efficient design, and content and having them posted to your fan page or brand profiles of these websites. The above analysis graph would have given you a clear image. When a huge crowd is making use of the site, it is evident that your promotion gets noticed eventually. And in that way, you can further carry your leads into customers.
Gaining clients is that easy. You should be very clear in taking your business to your clients. Target a set of visitors by tracking their visits to your page, then pull them into your website just by providing them a call to action on your social media page. On doing this, you can easily convert your visitors into customers.
Why do you have to wait for someone else to carry your business forward. It is now at the reach of your hand. Create a fan page for your service or your product, promote it with your promising content and innovative design factors, make your page appealing that people who visit your page proceed further by clicking the link that leads to your website. Once you pull them in, they are all yours. Now you can easily convert these leads to customers.