Every marketer is aware of social media marketing and many are experts too. Yet, I write this post as social media is an overwhelming place.
A recent analysis at Hubspot has found some interesting facts. The facts are all about engaging with social media sites.
Do you wish to know what would be the facts that makes social media engagement a better investor?
Let me tell you some interesting facts that I came across about social media platforms and social media optimization.
Are you worried that your posts are not reaching the expected audience? Then you should follow this post for better results.
You should understand when and how to engage your posts on social media platforms.
The Best Time To Post On Facebook:
On a grade of 10, around 9 posts do not go well. Still, on the extreme end, there is a difference in posts that are posted at the beginning and at the end of the day. But, I would suggest to concentrate highly on content rather than counting time and its variations.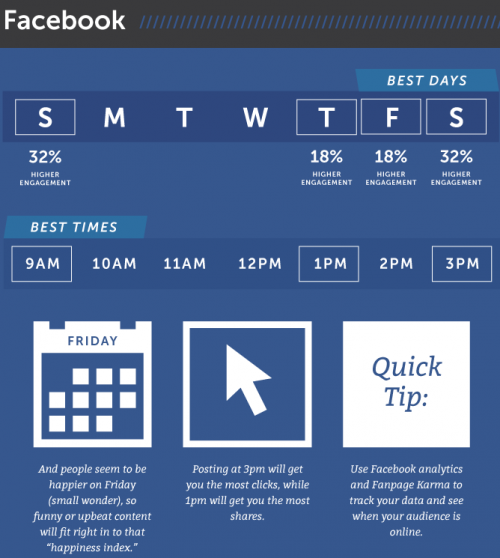 Do You Know Which Is The Best Day To Post On Facebook?
In spite, there are many other social media platforms, people show great interests over Facebook feeds. And that is why the entire week and the whole day for a Facebook feed is completely engaged. You might think, "then posting on Facebook is completely unworthy". Never at all. More than a weekday people spend more time on Facebook during their weekends. The engagement starts right at Thursdays and obtains its peak on Sundays.
Especially, Sundays are more obvious that people spare much time on its feed. And that is exactly the right time that your posts are keenly noticed. If you are looking out to post at any specific timing then 1 PM is the exact timing where you get often clicks and where as 3 PM would gain your post shares. These timings were the recent analysis made and are predicted to have good engagement among the audience.
What Is The Peerless Publishing Rate On Facebook?
You would find a drastic change or even a fall in your return on investment when you happen to post more than five times in a week. When you are running a page that has 100 followers then, you could notice the following happen. When you post two posts in a median then one of them gains the click. Comparatively, in a range of 10, every single post obtains only 0.5 clicks. Hence, it is recommended to post in between 2-5 times a week on Facebook.
On the other hand, Facebook gives priority only to fresh content. And that is why when companies publish content, only the recent posts get prioritized. Many blindly believe that engaging with numerous content could get them diminishing ROI. But that is not going to work that way.
You should take a different step in order to engage your audience. If you are able to give your audience the right content that they expect from you, then your audience would automatically return to you for your content. At the same time, Facebook also rewards you and gets your posts displayed on the feed.
You should also have look at how Facebook ads act in a different way in the marketing universe.
Relative: Facebook Ads – The Difference They Make In The Marketing Universe.
The Best Time To Publish On Linkedin:
The same strategy that is followed on Facebook can also be followed on a business network. As you could find entrepreneurs in your network, they are indeed looking out for some information from you. And that is why you need to be informative enough to your network in order to sustain. So are you looking out to find the best time to post your content? Then here is the answer.
A few days back, I came across a post that explained how to engage with social media content. The post also explained the best time to share posts on social media platforms. When it comes to Linkedin, as the platform is business oriented it is good to have your posts posted during business days between 7 AM – 8 AM, 12 PM and 5 PM – 6 PM.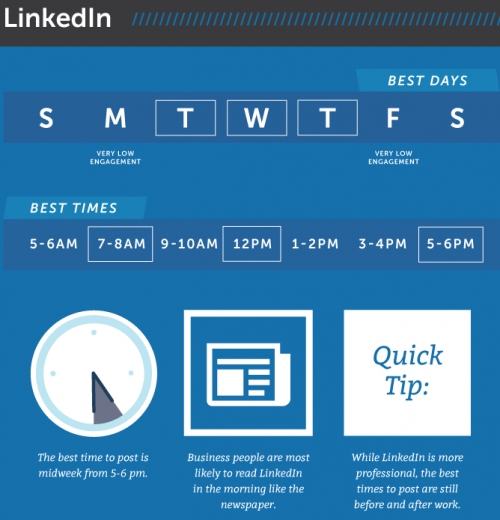 Especially, people start their week with full force. Thus, Tuesdays, Wednesdays, and Thursdays are highly effective to engage the business class audience. And that is why it is recommended to post healthy content on these days.
What is the peerless publishing rate on Linkedin?
If you are going to publish your content once a day, then you are definitely going to lose your ROI. The same strategy that is followed on Facebook is also followed on Linkedin. Linkedin does not allow feeds of companies to overwhelm news feeds of users. At the same time, recent posts are good enough to engage users when compared to older posts.
Suppose you are planning to engage posts everyday then remember your posts are going to gain only 0.5 clicks. Rather, if you are going to understand how and when to post your healthy content, then you are going to be the ruler of social media platform.
The Best Time To Post On Twitter:
You could post on twitter at any convenient time. I would like to remind you that content is more important than your posting time. Time doesn't matter at all. Any good tweet is highly treated well. Your audience may like it or even re-tweet it for you. And that is how your content gets promoted.
But, I came across an analysis that has come up with one specific day that really engages this platform. It is WEDNESDAY.
There is completely a different strategy when it comes to twitter. Analysis have predicted that 12 PM, 3 PM and 5 PM – 6 PM are the best timings that audience get engaged with tweets. You could notice most tweets are noticed every now and then in these timings. Twitter is one of the engaging platforms. It is also found that 181% of the audience on Twitter are more likely to be engaged during their commute.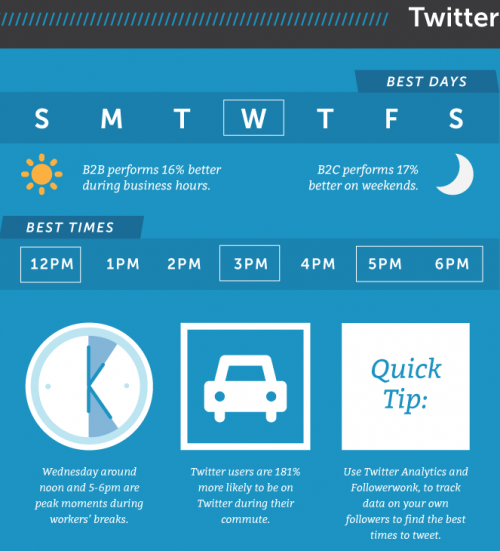 What Is The Peerless Publishing Rate On Twitter?
Twitter is a sequential network and therefore marketers posts their content at any time and they engage the audience and obviously, you get instant clicks and likes. But when it comes to this platform, you could post at any time and even any number of content. That is not going to bother your followers. Even daily a tweet post with your content is highly recommended.
In case, if you are publishing a quality content, then you are engaging your audience in a better way. So when you are able to deliver such content then you are automatically followed by the right audience and they often reach you for your content.
Final Verdict:
Hence, if you are planning to engage social media with your content, then you should post 2-5 times in a week when it comes to Facebook and LinkedIn. But, you could fearlessly post on twitter at any time and any number of times. This is the right strategy that you need to follow in order to excel with social media engagement.
Get engaged with the right audience on a right platform and at the right time. If you feel that I have missed out any of the strategies then let me know through your valuable comments.
You could also have a look at the following links for a better understanding of how social media platforms help you develop your business.
Comments ()