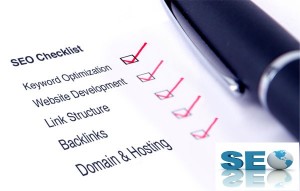 Making a well-designed website with good content is not enough for a business to be listed on search engines. Without optimizing a website you will not be able to make your online presence and one of the best possible ways to rank well on search engines is through Search Engine Optimization. Following a checklist is very important in search engine optimization as SEO Professionals need to take care of so many things, so chances would be higher to forget few important things. Following are the few basic SEO factors which need to be followed for new websites.
Meta Data
Check your entire site's Metadata and ensure that it conforms to SEO best practices including length (60 characters for the title, 150 characters for description), keyword optimized (for density, and proximity) and most importantly ensure that Meta includes an appropriate call to action.
Content
Is your content optimized for your keywords? Ensure it is by testing it with content optimization tools such as code to content ratio, and other with this great keyword density tool found at ranks.nl.
JavaScript
Search engines cannot read JavaScript. Ensure that none of your critical content is displayed using this language and more importantly, ensure that your navigation is not displayed using JavaScript.
Images & Video Content
Optimizing your site's images and video content is critical. Google and other search engines such as Yahoo and MSN are displaying more and more non-text based content in their search results (the concept is called Universal or blended search) and therefore it is very important to ensure that your site's images and videos (if you have any) are optimized according to SEO best practices including ALT tags, file names, snippets, and size.
Internal Links
Ensure that your site contains keyword rich internal links (think Wikipedia). The links should support your site's keyword targeting strategy (i.e. Internal links should point to URLs with strategic keywords (eg. Blue widget instead of click here).
Link Popularity
Most importantly, in 2012, create a link building strategy and implement it! Your strategy should be based on the competitive landscape of your niche market.  Analyze the links of your main competitors (the ones ranking for your target keywords) and ensure that your strategy includes a practical solution to acquire similar/better links.  Link building is very time consuming, tedious and results are not immediate but don't let that discourage you.  If you acquire the right links (from authoritative relevant sites with the optimized anchor text) you will be rewarded!
Webmaster Tools
Have you created a Google Webmaster tools account for your site? Google has created the webmaster tools interface to help site owners identify issues with their site and fix them in line with SEO best practices. Creating a webmaster tools account is very simple. Ensure that you also verify your site and upload an XML sitemap.
Analytics
Do you have an analytics account? Without one, you're flying blind. If you don't have a budget for a commercial Analytics program such as Omniture, Google Analytics is a great free one. Ensure you get the most out of Analytics by tagging up your site for KPI (Key Performance Indicators) goals.
SEO Checklist:
TLD (Top Level Domain) with Targeted Country Extension
Technical:
Non-www to www redirection
Zero Broken Links
Search Engine friendly image Sizes
Low Page Size
User-friendly URL Structure
Professional design
Easy Navigation
On-page:
Unique Title Tags
Converting Meta Descriptions
Descriptive ALT tags
Customized Header Tags
Quality Content
HTML Sitemap
XML Sitemap
Accounts:
Google Analytics
Webmaster tools
Bing Webmaster account
Social Media:
Facebook
Twitter
LinkedIn
YouTube
The above is a top level SEO checklist. There is much more to SEO but if you start with the above, at least you've covered the basics. If you're interested in Google's view on SEO, read this SEO best practice guide from Google.
Hopefully, this checklist will help you get your site to a nice established place and you can keep doing some great marketing and eventually win the Internet. I wish you good luck with your new website.
Comments ()