Every single online business owners are trying to rank better in Google search results. There might be one hundred reasons behind it but one good reason that everyone prefers is the conversion. With this in mind, enterprises started to perform search engine optimization techniques to make their websites rank better.
In this post let us have a look at the blocking factors that abstract the ranking of your website. Stay close to the content that you may analyze your website if it is facing any such similar issues.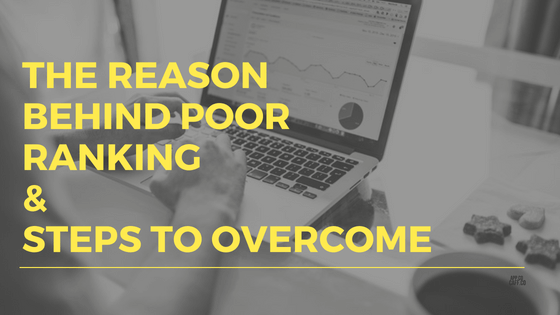 Factors that block your website from ranking better:
Maybe your site is new:
I have come across people who have just started a website but claim that they still did not rank on top of Google. The actual fact is Google does not rank any new website immediately. It might take months to rank a website based on the optimizations.
In case if you publish a website, the website would be indexed on Google in 2-3 weeks. If you are not able to find your website on Google, then you could manually check whether the website is indexed or not. Proceed with the following steps,
Go to Google search tab
Type, site: yoursitename.com
Click the search tab.
Now Google will fetch all the indexed pages of your website. If there are no search results found, you can index them manually by doing the following. Google webmaster –> Fetch as Google –> Enter the page URL.
Yet this is unnecessary. Because Google will be able to fetch your website elsewhere on the web. But you need to associate your website or web pages on published articles, external publications, local directories, or even on tweets posted on Twitter.
In case your content is poor:
There are chances of getting your website drowned in the sea of the web. This is because the sails of the boat are not strong enough which is obviously the content. We all know that content is the major of the web and especially when it comes to Google, content is the KING.
There are websites that input content on their website for the sake of being put up on the website. And there are two types of thin content: One is a kind of low-value content that can result in manual actions. The other content is of no value.
So make sure that you find the best content for your website. When you are unable to provide a unique content for your user, you automatically lose them.
Improper on-page SEO:
In the past few years, search engine optimization has gone through vast changes. But on-page optimization has undergone only a slight change.
Make sure that you use appropriate keywords on your content, target on the topic, focus on one or two main keywords. This not just stops where you think but it can improve your website's user experience. This can be taken further in attracting more inbound links to your content.
Your site has failed mobile optimization:
Mobile users have widespread and thus the need for the website optimization to a mobile view is really necessary. It can be really better and even more helpful if you are optimizing your website for the mobile view.
Around 85% of users prefer mobile view when compared to desktop view. Thus it is highly necessary for you to prefer a responsive website that it may be viewed on all devices.
If you are not sure that your website is not mobile-friendly then you can opt for Google's Mobile-Friendly test and even the page speed insights tool by using these tools you can ensure whether your site loads quickly and is accessed by all devices.
Insufficient inbound links:
It is obvious that a healthy inbound link is important for getting your site to rank on search engines. You can obtain healthy links from a high-quality website. But make sure to drive inbound links through natural means. You can even try generating those quality links by developing unique and quality content.
For more detailed information on link building, you can also have a look at our previous posts.
Blind myths and eye opening techniques of link building
Now let us have a look at the possible factors through which you can rank your website higher.
Check your queries report:
It is really simple to find your queries report. You can get them through Google Analytics report. Find the following steps.
Acquisition > Search Console > Queries.
The report will be generated with the following fields,
The phrases you rank for
Your website impressions on Google
The clickthrough rates on your web pages
The average position of your website
Understand the ranking algorithm:
As we all know, in recent years it finds great efforts to predict the Google's ranking algorithm. Google's executives like Gary Illyes and John Mueller has already confirmed that Google is constantly making changes to its algorithm.
Yet there is a consistency in the algorithm. We have explored the best knowledge of Google's algorithm and its major updates. We have listed a few of them.
Mobile friendly update: This update highly favors the website that is mobile responsive and sets the stage for future penalties if the websites do not comply accordingly.
Hummingbird update: Aims to understand the context of the user queries and not just the literal words they type.
Pigeon update: To integrate local search results like Google maps
Penguin update: Targeting sites that gather unnatural sites.
Making sure that these updates are clearly implied on your website you can find your website escalating towards the desired results.
Develop SEO with keyword research:
You need to be very cautious about your on-page SEO either. The best thing about an effective inbound marketing is the keyword research.
We would help you out in figuring how your audience will find your website.
Tips how your audience finds you:
To make it more interactive you need to choose the keywords that your target audience uses to find your site. You can make use of the Google keyword planner. On the dashboard, "search for a new keyword or the ad group ideas".
Then, insert your primary keyword. By doing so, the search tab shows a list of keywords and their search volume for the respective month. This is how it works.
Improve the quality of your content:
As stated above in blocking factors content plays the major role in your website ranking. In case, if you are poor at generating content, try to make it up to the mark. Make sure that you do not generate any irrelevant content.
On the other hand, the most important thing that one should take care is the plagiarized content. Never allow copied content to ruin your websites growth.
When you are generating content for your website, you should be very mindful. There are chances where you get to come up with the same point that is already existing on the website. To avoid such mistakes and to check whether the content that you have generated is free of plagiarism, you can make use of the plagiarism tools that denotes the places where the content have been replicated. This prevents you from careless mistakes that occur on your website.
Wrap up:
It is high time for every website owner to take a beneficiary step towards their website. Try to figure out the above-mentioned factors, if they are bothering your website growth. In case, if your website is clean and neatly optimized and still not able to rank better on Google searches. Try implementing the below mentioned SEO strategies.
Never miss one from the strategies mentioned. We can assure you definite improvement in your search rankings if you are applying these. Never miss to write to us on your success stories.
Comments ()