Wanted to have simplified devices to generate effective content? Wish to generate content faster than before? There is a good news from Microsoft to writers. Yes, Now you could save time and energy in framing your content. There is no restriction for you to sit hours and hours together to type your content. Microsoft has made it just simple for you. One could now dictate his/her content on the Microsoft dictate enabled device. Do you know why this application is so unique? Very often writers face a problem of writing long essays, as it takes plenty of time for them to generate and frame them as layout.
In order to break this burden, Dictate is a tool from Microsoft Garage. On adding the tool to Outlook, Word and PowerPoint of windows you can frame texts with speech. This is a methodology that is derived from the state-of-art speech recognition along with artificial intelligence involved in Microsoft cognitive services which includes both Bing Speech API and Microsoft Translator.
The add-in permits transcribing voice into 20 languages and also translates up to 60 languages in real-time. There is something special about the tool, it has the ability to develop new lines, delete, even punctuate and much more to format text.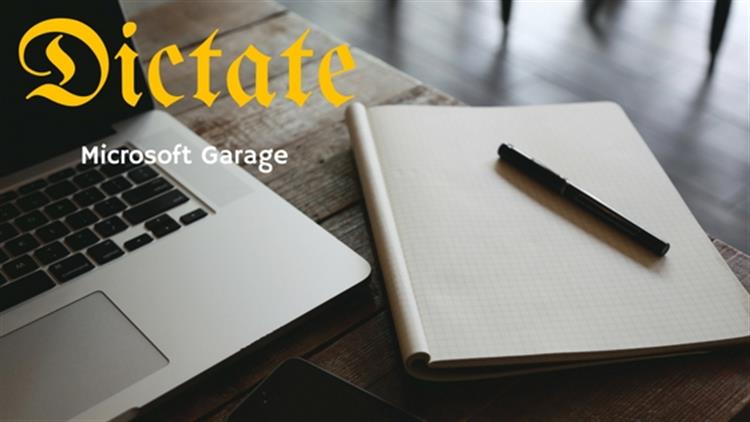 Initially, the prototype was used within the premises of Microsoft where around 1500 employees in more than 40 countries took hold of Dictate in their everyday official activity.
How does it work?
Once when the add-on is installed, a new menu is displayed in the productivity toolbar, this allows you to proceed dictation. It is a simple trick by Dictate that it translates your language into another.
The add-on is capable on working with Office 32-bit and office 64-bit, and needs the user to work on windows 8.1 or later versions, Office 2013 or higher versions and even on .Net framework 4.5.0 or later. As this is a Garage project, it may or may not be developed further.
So how does it help with content generation, Let us have a look at how "Dictate" works on content strategies.
Dictate Promotes Content Generation:
Most of the times content developers face the problem of content fatigue. This is because the content writer needs time to both generate as well as frame his ideas. On framing the content the same way he had phrased it in his/her mind, would be really a tough task. As it is hard to remember every single note that he thought previously would be impossible for him to bring it to the write pad. This is where a speech convert tool could help him in a better way. Though there are tools that could recognize in a better way, there are still some flaws on its recognition.
Whereas, the Microsoft's tool is already a common tool among the employees of Microsoft around 40 countries. Hence, Microsoft has brought it to its users who use windows 8 or later. Now you can Master your content writing with the most feasible tool which helps users to develop content at the instance. This could create a huge response among users. With this in mind Microsoft has made it flexible to users even on .net platform.
Final Verdict:
Make "THE DICTATE" Microsoft's garage launch as your tool for generating content, The most effective tool that can even act on your commands. It is more easy to generate fast content than ever and you will never face content fatigue on adapting DICTATE for your content management. Microsoft has indeed built a platform for a better experience on content management system.
Comments ()