The online media is becoming a great platform for many businesses and to be more precise, it has been the best for almost every business to promote themselves. In recent times, a strategic approach is getting noticed, and it is called as content marketing. Content marketing approach has its ups and downs since it got its reputation as an effective marketing strategy. Initially, it was like, a website with high quantity content got the reputation on search engine page rank (SERP) but not the scenario has changed. The quantity went down, and the quality came up resulting in websites with high-quality and appropriate content are sure to win the race in SERP.
2015 was a great year for the marketing buffs and in which the content marketing lead the race in the Digital Marketing track. Below graph displays the way digital marketing happened in 2015.

What is content marketing?
Content marketing is a strategic approach that helps in marketing products and services by making the customer understand the product after reading the associated content. It also helps in retaining the audience and profitable customer action.
Content Marketing in 2016 – A new path to success:
2016 has started promising many innovations in new trends and also few old trends that happened successfully in 2015 might continue in 2016. The recent research by Content Marketing Institute stated the marketing benchmarks along with the budget and trends. The 2016 B2B Content Marketing Benchmarks, Budgets, and Trends report found that nearly 30% of the B2B marketers are performing a perfect content strategy while it was only 8% last year. Joe Pulizzi, the Founder of Content Marketing Institute said, "While perhaps the industry is approaching a trough of disillusionment, companies that report being clear on what success or effectiveness looks like also show a higher effectiveness rate (55 percent)."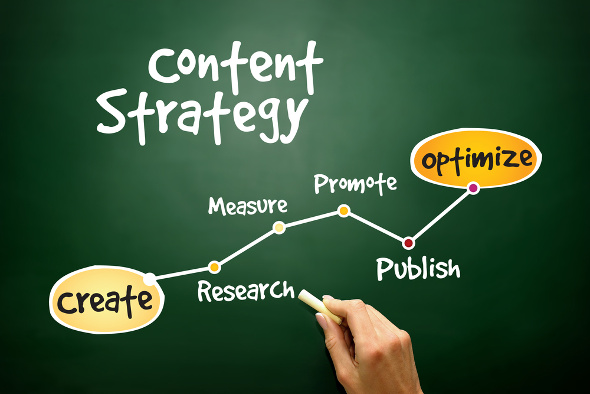 Here are the five ways to master your content marketing strategy in 2016
Focus – Social Media will rule marketing:
As a Facebook's initiative to take articles directly to the customer, it launched the Instant Article feature that helps the journalist and writer to post their stories directly to the targeted audience. LinkedIn has the same feature, and it allows article publishing along with creative interactions. Initially, YouTube was the first to do so. It allowed people to host their channels at free of cost. Other social media platforms are expected to allow content sharing and publishing.
Concentrate – Long-form content has its hand on the top:
Most often, people use long tail keywords i.e. long search queries as they get an immediate and appropriate answer to their query. Google Knowledge Graph is here since 2012, but it has opened up recently to show how can it impress us. Content marketers are forced to concentrate more on long-term search queries as it helps users who seek instant answers.
Measure – Aggregate value of online presence is important:
The past was entirely different as websites with quantified and qualified content would get a vast reputation from the audience and search engine. But now the entire scene has changed as people are expecting more interactive. An aggregation of social media content, mass publication content, visual content like videos, infographics and similar other matters a lot. Focusing mainly on the various content publishing and sharing will lead to a good online presence.
Interact – Make your content speak to your audiences:
Interaction helps in reducing the bounce of rate as the customers get bored when there is no interaction while reading the article. Recently, custom newsfeed and query-centric search results have already made it statement strong in the digital world. Now, the content needs to act towards interaction and the demand for individually tailored content is sure to be on the top.
Relax – Writing robots will start rolling possibilities:
Automated algorithms for writing simple descriptions and article are taking up the place as we move toward a world of artificial intelligence. The writing algorithms are still in the primary level, and more advanced writing need the brains of humans. The algorithm take bite-sized information from various platforms like social media using which the robots from engaging and informative stories.
Apart from all these, visual content will also play a significant role in content marketing as a result of the increase in the wireless connectivity and internet speed. People are expecting fast solutions. The videos and other visual content will make a new way in 2016 to helps people relax and get what they want. Following the below might help you run successful content marketing campaigns.
Documenting the strategy and the results obtained
Build an audience group to hold things up
Author-bio: K2B Solutions, the top-notch web design company in India, have expertise in PHP, Android, iOS, eCommerce, WordPress and more technologies. We have a very good expert team of qualified professionals who provide customized and quality web and mobile app services to our global clients.
Comments ()