Building an online business is not that simple. Among all other aspects, content plays a vital role in building the online business.
Why is content important?
We all know content is the king. When it comes to the web nobody could neglect it at any cause. That is why businesses try to keep up their standards. To be more clear, it is really hard to build a house without the layout. Likewise, if you are not owning a clear content structure you will not be able to establish your website in the online market. So, content is something important like the layout plan.
What do these businesses do with the content?

Content cannot be generated and kept aside for display. It is like the meat that is prepared and kept aside. And that is why business owners generate content and get them distributed across the web. On distributing their content on various platforms, these businesses obtain prospective leads through which they carry their business ahead. Some are really good at it and a few fail to perform it better. So, let us see what are the common challenges that occur in content distribution and what would be the perfect step to process content distribution in a better way.
What is content distribution?
Content distribution is defined as disseminating content to a large or targeted audience. This involves various methods and sources. A few businesses have involved strategies that build good content distribution systems. Many businesses have obtained victory and many are still struggling to obtain their desired destination.
In this post let us have a look at certain factors that withheld success of content distribution process and ways to perform it in the right way.
Let's Get Started!!!
We have come up with a few factors that most businesses fail to concentrate while implementing their content distribution process. Let us make sure that we do not repeat them in our content distribution process.
Factor #1: Lacking resource:
Content generation and content distribution processes are always evergreen. But it depends on how you allocate resource for the process. Many of us try to achieve more through the limited resource we have. The resource includes employees, budget, time and tools.
It is high time that B2B content marketing requires allocation of resources to perform effective strategies. The biggest drawback with the B2B marketers does not allocate enough time or resource to generate blogs, review content, and new content ideas. This is the ultimate reason behind content distribution failure or its inconsistency.
The only solution to fixing this issue is allocating sufficient resource. By this, you can avoid content distribution failures and achieve great results through it.
Factor #2: Incorrect strategy:
No content distribution works well until and unless it is done perfectly. The content distribution is an effective process that builds a business in a number of ways. But many business promoters find it really hard to achieve in the long run. It is because they implement it the way it should not be.
A perfect B2B content marketing strategy will always help to produce perfect content for the target audience. All you need to do is work on the audience persona and try to find what really they expect from you. Once you are aware of the type of content that your audience expects, you need to work on various levels of buying stages. By doing so you will be able to work on the right strategy avoiding resource wastage.
Factor #3: Lacking promotion:
No matter how good a content specialist generates content, if he is going to fail to promote the content then all his efforts turn worthless. Most content marketers either fail to perform the strategy correctly or they miss to perform them. Did you know? promotion is the final stage of a content creation process.
Promotion can be done by sharing blogs on social media, posts on LinkedIn, Twitter, and Facebook, etc., You can create retargeting ads through which you will be able to highlight an e-book or white paper. Email content can also play an important role in carrying new content to your audience and even knowing what would be their interest.
Including promotion is really important in a content distribution process. Conceptualizing and generating content alone is not going to help anyway. You need to include promotion strategies and techniques to get your business hooked up in the top rankings and that can be done only through content generation and distribution process.
Factor #4: Lack of strategy:
This is something that we have discussed initially in this blog, where everyone lacks strategy. This is the base of all other techniques. For example: consider your trying to build a building or a house without a plan. How will it be? Can you imagine? You will never know where to place the steps, windows or doors of the building unless you plan for it. It is the same way that you generate a content and let it flow on the web.
Without a plan, you cannot create a content just like that. You need to have a plan for it. Plan the purpose of the content, how it should be, whom it should address, and other things that would highly support your business as well as provide meaningful information to your audience. Only then you need to move any further to create your content.
But most of us tend to directly proceed writing or to frame the content. If you have been so far doing this mistake you need to correct it only then your content generation process or your content distribution process would worth it.
Now let us see how to get rid of these and perform content distribution process exactly the way it should be.
Before you could start, ask yourself these:
What is the purpose of your content?
Knowing the purpose of your content is really important than any other factors that you could concentrate. So before you start, try analyzing yourself with the following set of questions,
1. What is the need for the content?
2. What are you about to write in it?
3. Is it going to help your business?
When you have answers to all these questions you can proceed further in writing the content. By then, you will be able to write all necessary content that would serve to all above-mentioned questions.
What type of audience do you serve?
The audience is your biggest target and you need to serve them correctly. In case, if they are dissatisfied with your content, you cannot expect them to reach you any further. So make sure that you deliver proper content to your audience. On the other hand, you need to know the type of audience, whether they are your targetted audience or your existing ones.
Also, try to know whether you are writing for the millions in common or targetting only the business personals who are capable of obtaining your product or service. You need to be very clear with this only then you will be able to deliver the right content to them.
Now let us have a look at types of content distribution and how to perform them.
Performing content distribution process:
Paid distribution:
Paid distribution is the key part of your distribution strategy. Remember, with paid distribution, you will be able to find drops once you stop funding. Paid distribution should be implemented strategically.
Now let us have a look at different types of paid distribution networks.
Ad networks:
The ads are often termed as "Pay-Per-Click(PPC)". This ad campaign works just as it sounds. This
advertising method displays your content to your audience and when someone clicks to engage you will be charged.
There are two different types of PPC ads:
1.Search Ads
2.Content Ads
With search ads, you need to pay for the keywords that are displayed as sponsored results. The most familiar search PPC network is Google Adwords. The following is an example of a search ad campaign.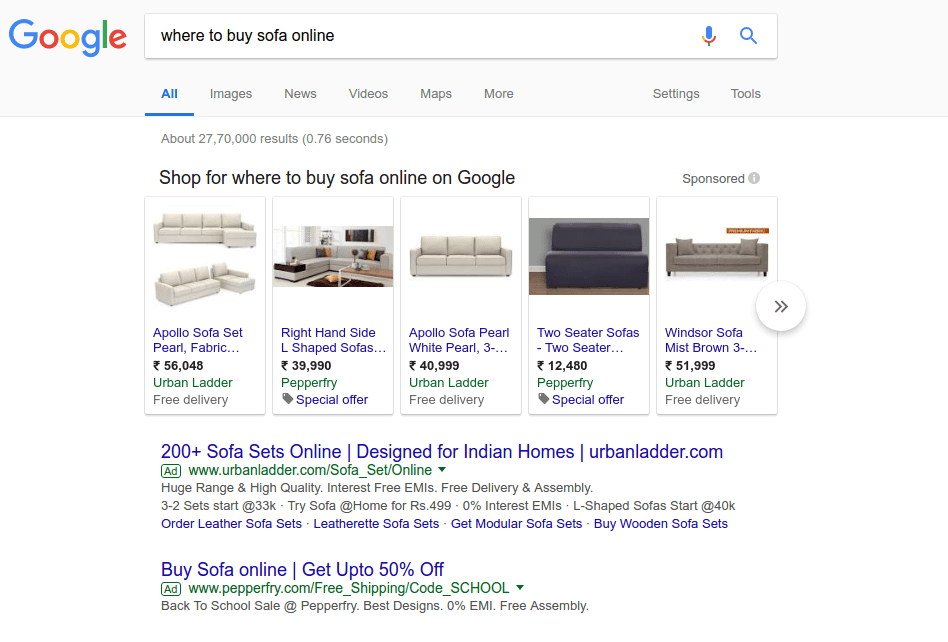 Content ads are based on the content delivery network engines. They deliver articles and videos on websites using widgets. The following is an example of content PPC campaigns.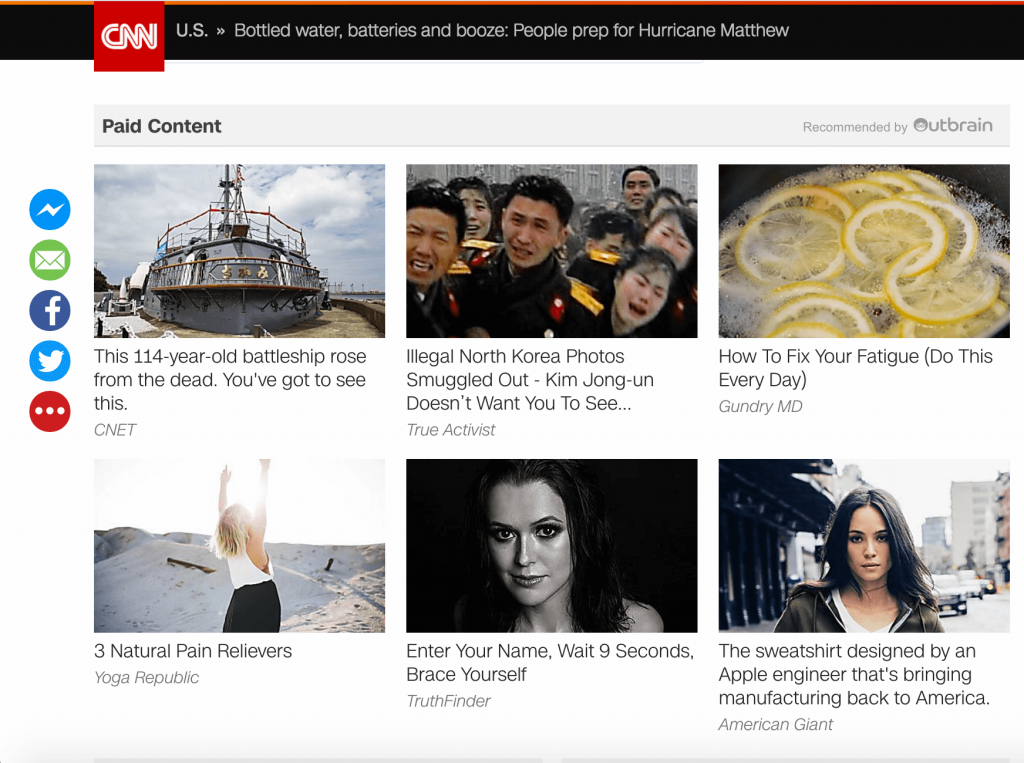 Social media ads:
Paid ads:
Social media networks also allow marketers to run ads and target audience. The price that you invest in paid social ads vary from less to very pricey, so make sure that you plan for the better one that fits your budget. As stated before you need to plan for it before you involve yourself in it.
Things that you need to notice before proceeding any further,
Determine your time frame: You need to know how your campaign should run either sustained flow in your budget or you need a huge amount of traffic in a short span of time.
Determine your audience: Trying to generate leads? or just trying to create a hype around a product that you are about to launch?
Find the best ad alignments that both fits your budget and the audience: Find the best platform that offers various format and targetting tools. Figure out the right one that suits you and help you to reach your target audience as well as meet your business goals.
We have listed a few platforms that really performs well and can help your business either in the content distribution process.
Facebook
Instagram
LinkedIn
Twitter
Pinterest
Now let us see how native advertising could help your business.
Native advertising:
Native advertising is also known determined as branded content. It is where the brand works with publisher or content generate to align or create content that sustains on publishers site and reach its targetted audience.
Tips for native advertising:
Native advertising is a long-term goal: Your campaign would turn effective if the advertising runs for three to twelve months of time.
Invest to create exceptional content:
As mentioned your native Ad will appear on your publisher's site and you need to stay ahead as you are investing on resource and time and you need to make sure about the strong ROI.
Plan for distribution:
As the advertising creates visibility with your audience, you would try to promote it to your existing audience. So craft a plan that uses other distribution channels.
There are a few more advertising techniques that we would cover in the future post in detail. These techniques would avoid you from being dumb in your content distribution process and let you grow your business with the effective distribution process.
Wrap up:
Content generation and distribution are the two big strategies that help you to grow in the long run. If you are performing it in the wrong way, this post would be an eye-opener and help you to perform better than ever. You can stop doing the negative ones and implement the above-mentioned content distribution techniques to build your business.
Comments ()