What is Jailbreaking an iPhone means?
Bored of the app store's restrictions? Then, Jailbreaking your iOS device will be a perfect choice. Jailbreaking is the process of rooting the device to gain unrestricted access to your Apple device as it opens up the possibilities to get more out of your iOS device. For example, Jailbreaking idea is similar to that of letting a captive animal out of its cage after a long time. It can be done in all-of-your iOS device starting from iPod to the Second Generation Apple TV.
Few reasons not to Jailbreak your iPhone/iPad device
Even though Jailbreaking opens up many possibilities, there are few vulnerability that needs to be kept in mind.
It shakes your device's safety:
Jailbreak will be not be your bet if you like perfections. There are few extensions and add-ons that may crash your device which in turn takes time to recover. There are many troubleshooting tools that might help the device to recover but they are not as easy as it looks.
It makes iOS updates difficult:
It not so easy to update your Jailbreak Apple iPhone/iPad to the newly released iOS version as it involves a tedious process. If you update, the jailbreak will be lost and you have to re-jailbreak and also reinstall the apps and extensions which you have on your Jailbreak device. Patience will be your highest bet when your try to re-jailbreak your updated iOS device.
It doesn't give good apps at low price:
The best-in-the-slot apps are bit pricey! Cydia, the Jailbreak store has many exciting apps, extension and add-ons that are not actually affordable. Some app like better SMS, better notifications are not of low cost and if you prefer to use these kinds of app on a low price, keep your Apple device in unjailbroken state.
Tools that help jailbreak your Apple device
There are many tools in which below are few that make Jailbreaking pretty easy.
Common steps that have to be followed while Jailbreaking your Apple device
These steps are more important as they are quite common for all the Jailbreaking tools.
Backup your device as you may get any trouble while Jailbreaking. This could be done by clicking the settings -> iCloud -> Backup
Passcode or password (if you have any) will make Jailbreaking difficult. Just disable all your passcodes by navigating to Settings -> Touch ID and Passcode
The important thing to note is that the mode in which your phone is operating. Airplane mode is most required and the mode can be changed just by sliding up the screen and selecting Airplane Mode
Remaining steps depends on the tool which is used. The tool-wise detailed steps for Jailbreaking are listed below.
The Super Ultimate – TaiG
TaiG is a specific tool developed for Jailbreaking iOS 8.1.1 and 8.1.2. Jailbreaking industry leads like MuscleNerd have confirmed that TaiG is safe and free from malware and spyware.
Here are the steps to complete Jailbreaking after your phone is set with the initial requirements
Download TaiG and install on your Windows or Mac device
Now, click open TaiG and press the green 'Start' button. Make sure that your Apple device is connected to the system and also don't forget to uncheck the 3K assistant button on the TaiG interface.
Jailbreak operation will now begin and as soon as it is completed your device will restart. Do not plug out your device from the system as it may result in malfunctions.
Now you are ready to go with the latest version of Cydia on your jailbreaked device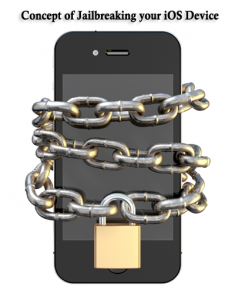 From the Chinese hackers – PanGu8
According to Chinese mythology, PanGu relates to the first living being and the creator of all. Pangu8 is specifically created to jailbreak devices that run on iOS 8 and 8.1. The latest version of Pangu8 has restore function integrated to it which helps in easy restoration of parent OS.
Once your device is set to the common/initial steps, follow the below steps to complete your Jailbreaking
Download and install Pangu8. Make sure that you have iTunes 12
Plug your iOS device to your system
As soon as your device is identified by Pangu, click "Start Jailbreak"
A prompt appears and in that just click "Already Did"
The tool will now run Jailbreaking and once it is done, your device will automatically reboot.
Disconnect your phone from PC and just click Cydia on your iDevice to complete the process
The Magic of Jailbreaking
"The restrictions are removed and the device is now free to take anything!"
Once Jailbreaking is done, the device lets you do the most form your iOS device. Few wonders of Jailbreaking are stacked below.
Restrictions Removed:
Turn it on!

iOS doesn't allow you to turn your iDevices in to a WiFi hotspot in free of cost, as the different service providers may charge to do so. But, if your device is jailbreaked, you can easily turn your iDevice in to a hotspot or easily tether with the help of an app called MyWi. There are also many other applications that will help to do the same.

Exciting Function Upgrades:
The wait is over!

You don't have to wait for the Apple's simple update as they take more time to update even a single task. For jailbreaked devices, there are many options available as app like Activator to customize your button functionality, Wi-Fi Sync to synchronize without any wires, etc.

Easy UI Customization:
Turn on your creativity!

Cydia helps you to even customize the overall theme with the support of an app called Theme it which is not even available in app store. You can even deeply customize the look and feel of your iOS's interface.
How to Restore iPhone from Jailbreak?
Don't worry if you want your parent OS back! In 4 easy steps your iProduct can be restore without any trouble.
Download and install iTunes on your PC/Laptop
On the settings menu of your device, click iCloud and disable "Find my iPhone/iPad"
Connect your iDevice to your PC using the desired USB cable
Once the iTunes recognizes your device, just click "Restore" on the Summary tab. Everything is done and you are ready to go.
Comments ()