What is parallax scrolling?
Parallax scrolling is something that is becoming more popular in recent times that too in web development community. It is a recent trend in web designing where a website is fully animated. Fully animated? Yes. The background images move slower by the camera than that of the foreground images, creating an artistic effect on the website you created.
Its History:
The history of parallax website started with the traditional animation which used multiplex camera technique. Jump Bug, an arcade game was the pioneer for parallax scrolling animation. It became more popular in 1982 when 2D animations and video games by Arcade Games (Moon Patrol and Jungle Hunt) were at their peak.
Parallax design started its venture into web industries in early 2011 and it was achieved using HTML5 and CSS3, the modern web frontiers. In recent times, a website with parallax design is getting more popular and people find it attractive than other traditional websites. The user engagement and the overall experience were taken up to a new stature. The very first parallax website was created by Ian Coyle in 2011 for Nike "Nike Better World".
The following graph shows the growth of parallax design over the years.
Parallax Website and SEO:
Mostly parallax scrolling is applied to websites with single/one page. Since many websites with parallax design have a single page, it doesn't mean only websites with one page should be designed with parallax scrolling. And there is a myth that one page websites are SEO friendly so as the parallax websites.
Carla Dawson wrote on MOZ blog saying there are few things which need to be kept in mind as the following will help to design a parallax website on SEO architecture.
Parallax scrolling is just a design technique which states how a foreground and background images should move when scrolled. Anyway, it is not going to affect SEO.
The basic attributes of SEO architecture like schema, sitemap,and address in footer can still be used. For this, all you need to do is to start from the SEO architecture and then the design is applied to the same architecture.
For mobile, parallax scrolling might look pretty heavy. So try to avoid parallax scrolling design for mobile platforms.
Parallax website designs are not responsive. This is really a devastating thing because of the number of people who use mobile phone and tablet. A survey stated that around 30% of the internet traffic comes from mobile phones and nearly 31% American use their Smartphone to browse the internet. Also, it is in the increasing state, so it sure that mobile phone or Smartphone will be the prime base for browsing. To avoid the problem just add the parallax concept to the home page alone and the remaining pages should be left on the same pad of traditional design. This helps to overcome SEO problems faced by the parallax design websites.
Best in the slot examples:
Parallax design seems to have many pros and cons but it is still going to be the web design trend of 2015. Here are few of the greatest and creative websites which run with parallax design
K2B Solutions:
This is slightly out of the above slot of parallax designs. Rather presenting the whole website in a parallax way, they made a presentation of the website in a single page with parallax concept. This page derives the whole of K2B Solutions' services and their achievement.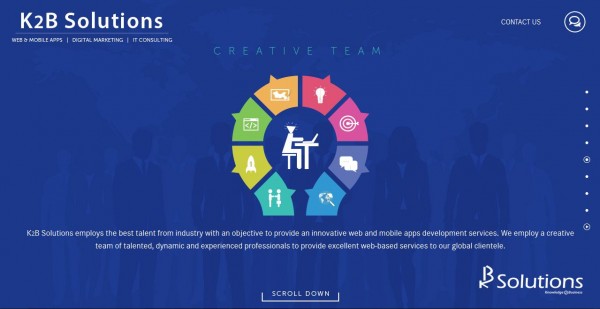 Flat Vs. Realism:
Creative of all and winner of many awards, flatvsrealism.com is one the best of the best examples of Parallax design. 2013 was the year when the flat design concept shook the designing world. It portrays the battle between the flat and the realism designs. And also in the middle of the scroll you will be posted with a game when you can choose your favorite from the flat and realism designs.
Atlantis:
The lostworldaffairs.com's Atlantis is also a creative website that uses parallax design to the core. This website states about Atlantis, the lost world. It is imaginatively designed in a way that it portrays the features of the lost world.
Distance to Mars:
If you like to know and virtually travel to Mars, then go to www.distancetomars.com. It is a virtual tour of mars that gives you details about the distance from Earth to Moon to Mars in pixels.
Comments ()