What strikes your mind when you hear the word "E-commerce website"?
Is it the poor images that get displayed on the screen?
The retarded delivery system?
Or any kind of issue that causes you regret on selecting the website.
These are some common mistakes that affect conversion. I have come across such experiences either. And that is why I write this post to help readers out of my experiences. This post could help you develop an e-commerce website that improves conversion rate.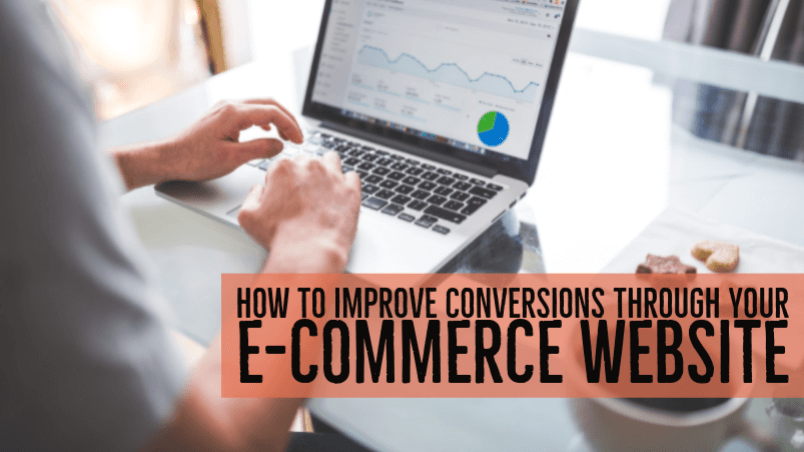 Wish to hear it from me?
Let's get STARTED!
Quality Images Grabs Attention:
Though stores are now placed had hand reach distance, people always love to buy online.
They buy products through looks.
That is why you need to present them in a way that grabs their attention. The product needs to communicate its feature and attribute within the two-dimensional scape.
There is no doubt at all, images can improve conversions. But it depends on the size and quality of the image that you present.
Let me explain you how could images have an impact on visitors.
Image Size:
When you are about to post images of products, bigger images are not advisable.
A study found that interest of people varied to the different size of images.
Image Quality:
You should be good enough at posting quality images with perfect lighting.
Make sure the image is large enough and not blurry. At the same time small enough that it does not consume loading time.
NOTE: Make sure that you optimize the image before you upload them.
360-Degree Image:
Curative set of images can increase conversions.
Make use of the dynamic image technology, that customers could rotate the image as the view them.
These images seem to improve conversion rates up to 27%.
Context Images:
Context images are responsive. These images create a scenario that visitors imagine themselves enjoying the benefits.
Eye-Tracking Images:
Did you know, eye tracking images are better interactive than normal images.
Whenever you chose to upload an image of a product with the model. Make sure that the model is looking at the image.
You need to notice all these strategies if you are willing to engage your customers with images.
There is another category where your visitors get engaged at a higher range.
YES! It is the videos.
Most of the times I have noticed consumers skip placing orders on certain goods. It is because they are unaware of how the product works.
A how to do video could make it better for consumers. As some products come with complex features people find it difficult on how it works.
At such cases, a video that explains how the product works could help customers in a better way.
Comparison Videos:
The most common thing which indeed everyone does is the comparison.
Everyone wishes to own a product that is best in the market. At times they try to be better than someone else.
We term the attitude as the comparison.
People compare products to know which would be the best one and opt for the one that has the best features.
So, if you post a comparison video that would have a better interaction with the audience.
Product Review Videos:
When someone reviews a product for customers it becomes simple to end up their decisions.
And that is why people go in search of reviews of their products.
Why not you provide them? This saves time and engages customers avoiding them to leave the site in search of reviews.
Post a review video of the product, this could definitely make customers stay on the page. At the same time end up with positive decisions without leaving the page.
Best Design Practices:
Since it is an e-commerce website, it doesn't mean that you need not concentrate much on design.
No matter what kind of website you launch, you should always stick to the best design practices.
You should make sure that you make use of definite color palette and stick to one consistent design.
Customer Care:
A pre-sale customer care option can have a good impact on regular customers.
Customers who make regular visits to your website are blind in placing orders. But on a certain product, they might have persistent questions that create hesitation.
At such cases, a pre-sale customer care who can answer questions at an instant can break barriers. This pushes customers to place orders with 100% hope.
Free Shipping:
This is one of the most important functionality even I look for.
Many customers who visit the website in search of product first peep into the price tags. The very next thing that they look at is the free shipping.
As most dealers fail to impress customers with such tags end up with losing the customer.
It is like, they are very close to place orders yet so far as there is no free shipping.
Are you offering your customers FREE SHIPPING!!!
No?
Then you should definitely give a try and am sure you will find improvement in your conversion rate.
Call-To-Action:
Finally, you need to call your customers to make some decision, if not there is no use of making all these efforts.
I have come across websites that fail to highlight the call to action button.
Try to make the button different from all the other ones.
Your customer should be able to differentiate the functional button.
Make sure that the button stands out of the other content.
Final Verdict:
You need to be unique and appealing to the crowd.
To do so it is not required to overcook your dish.
There are many other strategies to make an e-commerce site more effective. But not all are required to improve your conversion rate.
All you need to do is communicate with your audience. Make sure you create your e-commerce website for your customers and you need to make it user effective.
Implement these strategies to make differences. But, do not fail to tell us about it.
If you feel that I have missed any of the strategies that could help with better conversion rate. Remind me of them through your comments.
You could also refer these posts on e-commerce websites,
Comments ()