Transportation is important as the people navigate from one place to another every day. Another important gadget of today's life is mobile phones as it is considered to be a personal assistance. Smartphones have made people change the way they look at everyday activities, and when it comes to using Smartphones while driving, it is a hard and dangerous task, and even the road rules are strict as it prohibits mobile phones usage while driving. So, what if we need to do something important with our mobile while driving? We have to stop our car on the roadside to use our mobile. As the technology is advancing, many people have a question, "Why the in-car technology is outdated and when will it get the advancement?" Apple Inc. has announced the answer to the most critical issue. And it is none other than the most awaited announcement about Apple CarPlay.
What is Apple CarPlay?
The smartphones have become intelligent to do almost everything, and the in-car technology is also getting smarter with Apple CarPlay. It is a smartphone casting technology that allows the user to integrate their iPhones with the car's inbuilt head unit with display and is available only on selected compatible brands and models. Without taking the hand out of the steering wheel, CarPlay offers uninterrupted access to the iPhones with the in-dash screen allowing users to use functions like messaging, calls, music, navigation, etc. This infotainment technology helps in secure driving while using the iPhones.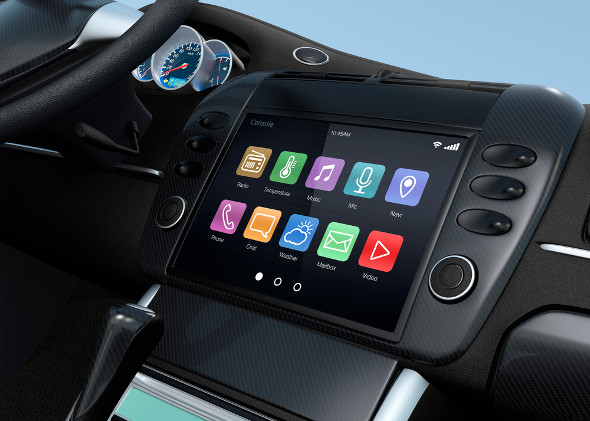 Apple CarPlay – An in-car assistance in the form of your iPhone:
Apple has announced that there are over 100 models available with CarPlay, the infotainment system. Many accidentally mistake that CarPlay is an in-car system that runs on iOS but, it is a connectivity system that acts as an interface between the car's in-dash system and the iPhone that runs on iOS 7.1 and more. CarPlay will sync your iPhone with the car system via a lightning cable, and it allows you to access you the iPhone via three modes.
Voice – CarPlay enables vehicles will have a dedicated button on the car's steering wheel using which voice command will be activated using the Siri.
Touch – Cars with the touch screen will allow the touch function. It is more like using your iPhone via the big touch screen.
Knobs and Controls – CarPlay enabled cars with traditional buttons allow you to sync and use your iPhone.
Google's Android Auto Vs Apple's CarPlay:
The rivalry between the Google and the Apple has never ended since the introduction of both the systems. Now, the new vision of these tech giants has moved towards the future smart cars residing on Internet of Things (IoT). It is time to know the difference between the two interfaces.
Home Screen:
CarPlay – Same as its home screen on the iDevices like iPhone and iPad, the home screen interface of CarPlay has the square icons and are large enough to touch while on the go, and it has no lists, folders or sub-menus to reduce hassle.
Android Auto – Android Auto has a set of five icons on the bottom of the screen. A double tap on any of the icons will display a list of the card with related applications. This feature adds an advantage of switching between apps without launching the home screen.
Messaging:
CarPlay – It supports Apple's native messaging system and it can read out messages and can send messages through voice commands.
Android Auto – The Google's technology supports third-party messaging apps like Skype, WhatsApp, Kik and more.
Navigation:
CarPlay – Apple's infotainment system uses Apple Maps for easy and precise navigation as many iPhone users prefer to use the branded Apple maps.
Android Auto – It uses the most widely used navigation system, the Google Maps for clean and clear navigation.
Music:
CarPlay – This time the Apple has been on a different side supporting other functional apps like Rdio, Stitcher, Overcast and more while supporting its very own parent app, iTunes.
Android Auto – Like every other service, Android Auto supports Google Play Music and also many other third party services like Spotify, Radioplayer and more.
It is tough to choose the winner among these two as they are likely similar and has almost every feature each other has. But, Apple's CarPlay has an advantage of having simple designs which are sure to help the users with easy navigation.
Compatible cars and Smart iDevices:
Apple CarPlay is compatible with iPhone 5 and above that at least runs on iOS 7.1 and above. For the people who are aspiring to buy a new car, here is a list of car brands that supports CarPlay and those cars are mostly manufactured in 2016.
Acura
Audi
Buick
Cadillac
Chevrolet
Ferrari
Ford
GMC
Honda
Hyundai
Mitsubishi
Porsche
Volkswagen
Volvo
Click here to get the list of all models that support Apple CarPlay.

Company-bio: K2B Solutions, the top-notch web design company in India, have expertise in PHP, Android, iOS, eCommerce, WordPress and more technologies. We have a very good expert team of qualified professionals who provide customized web and mobile app services to our global clients.
Comments ()