Long back, many would have known WordPress just as blogging site. But, in recent time WordPress is more of a Content Management System (CMS) than that of just a blogging platform. Around 27% of the sites all over the web are designed with WordPress background which is actually a promising number. Will WordPress be the future? What is the scope of WordPress in 2015? How your business or personal blog website will complement you? For all these questions, the answer is "Rely on WordPress and it will take your business to new heights".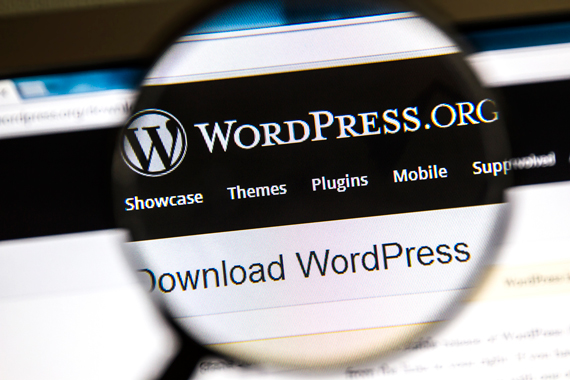 WordPress Definition and History:
Established in 2003, WordPress is an open source project which helps create websites and blogs in a matter of no time. Open source means it is developed by the community and for the community i.e. thousands of people all over the world work on it to help people get the desired requirements. WordPress was initially a blogging platform which helped develop blog page for bloggers around the world. Later it turned in to a website Content Management System (CMS) which has thousands of themes, widgets and plugins.
The ancestor of WordPress is called as b2 or cafelog. As on may 2003, it was reported that cafelog was used on nearly 2000 blogs. Michel Valdrighi, a contributing developer of WordPress, wrote b2 in PHP to be used with MySQL, Matt Mullenweg and Mike Little joint effort led to the successful launch of WordPress in 2003 and later in 2009, WordPress gained its responsibility as a open source CMS.
What is a CMS web design/website?
CMS stands for Content Management System. It is an application which allows editing, modifying and publishing content on a website or a web system. CMS is generally used in website which deals with blogs, news and even shopping. As a part of CMS, one can manage and store files and offer version-controlled access.
WordPress in INFO:
As said earlier, WordPress is the most commonly used platform to develop websites and it offers many themes and plugins which can be used to customize one's website. It is reportedly said that there are millions of website worldwide which runs on WordPress platform. Following are some of the stats which say how WordPress has evolved from ZERO to HERO.
32% of the new published websites are from WordPress wherein 19% is of existing website
In recent survey, it is said that 17.2% of the world's top 1,000,000 websites
According to Technorati's top 100 online blogs, around 58% use WordPress as a dedicated CMS. To your surprise, Mashable is one among them.
When it comes to Content Management System (CMS), WordPress leads the path with 57.1% while Joomla and Drupal follows the path with minimum users.
29% of the WordPress developers work for some company while the rest 71% are freelancers
8% of developers use WordPress just as a blog while 61% use it as a core Content Management System (CMS). The remaining 31% use it for both.
Predictions of 2015:
Whenever someone thinks of taking up a blog, the one word which flashes in their mind is "Wordpress". But now-a-days WordPress is more of a CMS and many people choose WordPress for developing their website. From this, we know that WordPress is going to new heights and there will be many new plugins, themes and widgets in near future.
You might remember, we wrote a couple of articles (Best Popular WordPress Plugins We Use & Why and WordPress App for Android Gets Stylized! Are You Ready for It?) on WordPress improvement. The things to follow are some of our predictions on 'Future of WordPress' that too in 2015.
Responsiveness will take control:
Mobile friendliness is something that Google also insists. Recently, Google launched its new mobile-friendly algorithm which focuses more on responsive and mobile friendly website for Search Engine Page Rank (SERP). As the usage of mobile devices like laptops, Smartphone, tablets and more of various screen sizes has increased, the website needs to be responsive i.e. the web orientation should adjust automatically to fit in the display which the user uses. WordPress already has many responsive and easy to use themes that can be adopted by any medium.
Animated Background will catch attention:
2015 is going to be the year for websites with animated background i.e. pages with big, moving background and even video. Flash is almost on the leap to die, it's time for every website running flash to jump to animated images and videos. Website running on WordPress can make the changes easily with the help of some innovative plugins like Simple full-screen Background Image, mb.YTPlayer for Background Videos and WP-Backgrounds Lite.
Flat Design will be everyone's choice:
If you surf through the web sea, you are sure to encounter at least 7 out of 10 websites with custom flat design. The period of realistic design has come to an end because of the rise of flat design. Not only for its robust color but also flat design makes a strong appealing design to the user. That's why we said flat design will be everyone's choice in 2015. Google's Material design also gained its concept from the flat design.
Comments ()