After a long wait, here comes the Google's Panda 4.2 refresh update. But unfortunately, it is rolling out slowly.
Google officially confirmed that the Panda 4.2 has rolled out on 17th July, 2015. You didn't notice any changes because it is taking its action incredibly slowly. Gary Illyes from Google said that Panda 4.2 refresh is rolling out slowly and it will take months to roll out fully.
Either get a chance or get penalised:
Google said to Search Engine Land that only a few webmasters have noticed this algorithm update. This is how it was intended to perform as it will take its complete action only after few month. A Google spokesperson said, "As you know, we're always working to improve Google so search results are higher quality and more relevant for everyone and this is just one way we do that." They also said that the Panda refresh has affected only 2% to 3% of the English queries which is actually lower than that of the previous update that was 3% to 5%.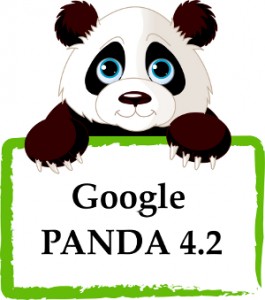 Everyone knows that the previous update i.e. Panda 4.1 refresh was released ten months back on September 25, 2014. That was actually the 28th update and Search Engine Land has coined that update as the 29th or 30th as there were some fluctuations in the refresh update on October 2014.
The new update is sure to bring some good news for the pages that have been penalised by the last Panda update. If the appropriate changes have been done, the penalised pages are sure to get lucky by placing themselves on the correct side. This news means that the effect will not happen overnight. As the update is rolling slowly, the pages have to wait to get indexed fully. But, the pages improvement can be easily seen in the organic rankings. As we know, Google has a cut-off date which means that the changes made before this date only reflect after the update release. Making changes after the update release gets its reputation only after the launch of the next refresh or update release.
Anyways to force Googlebot to revisit your page for audit?
Yes. The following are the ways using which you can make the Googlebot revisit your changed page.
Fetch and submit is one of the better options to force Googlebot to reindex the modified page. This option is available in the Google Webmaster tools.
Revamping your sitemap and submitting. This process will help your whole website to get reindexed as a new change date has been added to your sitemap.
The Search Engine Optimization (SEO) experts are happy after the release of this update since they have something to work on after the long ten months wait.
Comments ()