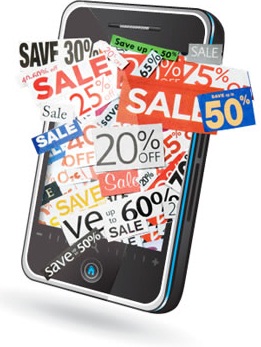 When Asa Candler and the Coca Cola Company (KO) introduced the first printed coupon in 1887, how could they have imagined that couponing would become an art form and their invention would someday be sent electronically to portable devices around the world?
In 2009, U.S. consumers redeemed 3.3 billion coupons for consumer packaged goods, according to Inmar, which processes returned or recalled products, promotional transactions and pharmacy claims for pharmacies and retailers. Manufacturers issued 367 billion coupons, at an average face value of $1.44, indicating that despite a tough economic climate, they understand the appeal of savings to consumers.
A time-honored way for a business to build a loyal customer base is to offer promotions and discounts. Even with the rise in electronic and digital forms of information, coupons are more popular than ever. Mobile coupons deserve a place in your marketing strategy.
What are mobile coupons?
Mobile coupons are promotions where businesses send a discount or special offer directly to a mobile phone. Similar to traditional coupons, customers receive the coupon on their phone and redeem it with the merchant. However, there is no paper involved, and the whole process takes place electronically.
How do they work?
Mobile coupons are sent to a user's cell phone via text message or downloaded using a Smartphone application. Coupon barcodes are then scanned directly from your cell phone or a short code is inputted into the cash register by the cashier.
Why use mobile coupons?
Mobile coupons are incredibly responsive. A January 2010 Harris Interactive survey of adult users found that 46% of people who own a phone are likely to try out coupons. Like other forms of text messaging, mobile coupons also have very high read rates, in the 95% range.
Delivery methods of mobile coupons
Mobile coupons can be delivered as a QR code or a barcode. They are downloaded directly into the phone using an application, and then scanned at the place of redemption. Larger companies are starting to use barcodes and QR codes more because they offer better tracking options.
The most popular method of mobile coupon marketing is delivery through SMS or text messaging. Text messaging is an inexpensive form of advertising. As are result, more and more companies are taking advantage of this powerful way to contact and interact with customers. This type of promotion is permission-based marketing, because the recipients have already opted-in to receive messages. They receive special discounts and rewards for signing up to an SMS list. In most cases, the customers receive a special code, and then share that code at the point of redemption.
Building your mobile coupons subscriber base
The best way to run an effective mobile coupon program is to build a subscriber base. An SMS service supplies the messaging system. People opt-in by texting the keyword you supply to a number you also provide, which is a shortened telephone number, called a short code. For example, they might text the keyword 'grocery' to a special short code number. You can let people opt in, or join, by promoting the program through various forms of media, such as your website, Facebook, and Twitter pages. By spreading the word in your other advertising channels, you can increase your subscriber base.
Like all forms of text messaging, your coupon should be relevant to the user. Mobile coupons allow you to tailor the promotion to the specific audience. Coupons can be targeted by time of day, type of audience, and any other characteristics that suit your business.
In a nutshell…
Building a subscriber list with SMS marketing allows you to reward your existing customers and attract new ones by promoting your business with mobile coupons. Loyalty programs can grow your business, and expose your customers to all the benefits that your product or service has to offer. This inexpensive and highly responsive form of advertising is a great way to keep in touch and generate much needed revenue, especially with the holiday season looming again.
While mobile coupons have been around for the better part of a decade, they were not widely available or used until recently. Last year, Juniper Research released a study predicting that mobile coupon usage would triple by 2014, with more than 300 million people expected to adopt the technology.
Comments ()