There is an ultimate purpose for blogging. One should be able to distinguish between earning out of the blog and be sharing information on a blog. There is a huge difference between these two. And this learning curve involves a lot of practice.
Many budding bloggers find it more difficult in differentiating them. It is because they knew not what they are up to.
In the beginning, they start a blog to share information. Later they divert towards earning money through blogs they generate. This makes them money makers and not information generators.
So, it is necessary to plan before your start. One need to know whether he is going to blog for money or blog to share information.
Once you have decided on it make sure that you do not move off the track.
If you have decided to blog to make money, that is something serious. The learning curve needs a lot of concentration that you may not miss any of the valuable things on the journey.
Now it is time to crack down the essentials that you need to blog about in the long run.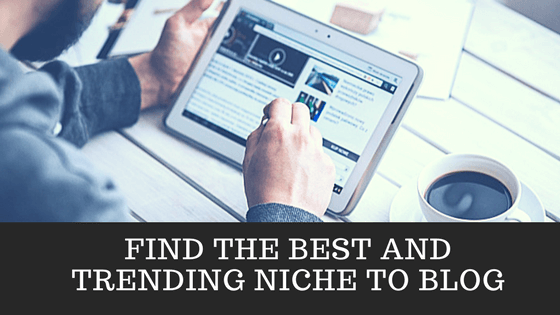 What is a niche?
A niche is a particular area on which one could create a blog to market that demanding product or service. In a nutshell, a blogging niche is a subset of a broader market.
We would like to help you with a few examples,
Consider a product in the market, let it be a pencil. The pencil is a subset of writing tool which further is a subset of stationary items.
Stationary items > Writing tools > Pencil.
Also, find the following examples,
Neem tree > Neem leaves > Neem fruit
Technology > Computers > Education
Computers > Laptop > Wireless
So, by analyzing a niche you will get a wider perspective of what you need to write. And that you may deliver the best information knowing the market value of the product.
If you find it difficult to analyze what your niche is all about, you could make use of research tools. The "Keyword Niche Finder" helps you to explore on any particular niche.
When you are capable enough to explore your niche, it is your turn to find what is in you. Yes, you need to understand what you are passionate about, this will help you to blog consistently in the long run.
What is your interest?
People have some interest towards a certain thing and they always wish to talk about it. This could turn to be the ultimate cause for blogging.
If a person is strong in a niche, he/she will be able to manage it on the blog. They carry valuable information to their readers in such a way they make their readers come back to read their blogs.
Interest is all that matters.
Consider a scenario, you are blogging about something for the sake of money. And if you aren't serious about it then, you will suffer lack of interest in a very short span of time.
No matter how popular the niche is, the interest within you decides on driving in traffic or not.
If you are not passionate about what you write then what is the point of blogging about it. Make sure that you are curious about the topic on which you are going to blog. Explore it as insisted in the above passage. You will find a drastic improvement in what you do. Both financially and ethically.
Once you are set, all you need to do is make some research.
Yes, we stress the word "RESEARCH"
We would like to explain you on the requirements of "NICHE RESEARCH"
#1 Find your audience:
The most important thing about blogging is knowing your audience. Before you start with a niche make sure what kind of response you get from your audience. And who is your actual audience?
Finding your audience is simple these days. Conduct a polling with the help of social platforms like Instagram and Facebook through which you will be able to find – What interests your audience?
You could even categorize your audience according to their age group as follows;
Age 18 – 26, Loves something fishy and interesting
Age 27 – 35, Loves something informative
Age 36 and above, gathers information on a familiar topic
If your audience is someone from any of these categories then you could target them likewise.
Suppose if your audience falls into the first category. Generate blogs that answer their queries.
In case if your audience is someone from the second or third group. Make sure your content is more informative.
There are certain things that you need to notice when you address the second and third set of people. The second category people look out for content that is informative. Whereas the third category people stick with the ones they are familiar about.
For example, if an entrepreneur (the third category) comes in search of information, he tries to gather information that he is already into. So, make sure you address the right audience in a proper way.
#2 Take part in forums and active online communities:
Participating in active online communities could help you much better. You will be able to find the best niche that would interest your audience.
There are many forums and active online communities on the web. All you need to do is register yourself with them and make use of them. When you are into an online community you will be able to share ideas that you have explored earlier. You will have dimensional views on the same topic.
Simultaneously, you can post-in your comments and questions to find answers for them. The scenario could turn better as there are chances to build your community. You can even drive traffic to your blog through those members of the community.
An added benefit of being a part of online communities is, you find people to travel along. There are several benefits that forums and online communities could provide. All you need to do is, engage and explore.
#3 Choose your niche:
Once you come to know your audience, find the best niche that fits them. Make sure the niche you choose is currently trending. You could make use of Google Trends to analyze on your niche. This helps you to generate enough money in the long run.
The most important thing that you need to have in mind is, "Go with what you are passionate about".
Many who have started blogging choose a niche that does not fit them in the long run. As a result, they end up halfway through.
"Then what makes them start with a niche that does not interest?" Useless!!!
If you are all set to start with your blog, it is time to know your strength on that particular niche. There is no point in starting with something that you are unaware. You will not be able to maintain consistency nor provide in-depth information on that particular niche.
All you need to do is list out a few things that interest you. Make sure that you list down the technical ones. Apart from your interest, try picking out the ones in which you have enough knowledge. If you find the best one out it is well and good to move further.
In case, if you are struggling with either or choices then it is right time to make a perfect decision. Now grab the audience analysis report. Compare your current niche report with the audience's report. You will be able to find the odd one out from the either-or choices.
Now, this would be the best way to find your niche for your perfect audience. Once you are set you need to be very specific in delivering the kind of content.
On discovering the niche, people think they are all set to blog about it. But it doesn't work the way they think. You need to know and understand how the niche can help you financially.
#4 How would this niche help you financially?
More than being passionate, one should be curious about the income of the blogging niche. We need to be brutally truthful in conveying this point.
Nobody blogs for a hobby sake rather everybody expects an income from what they blog. Because blogging for sake can never put food on your table.
So, it is high time that you need to decide on what you blog about.
It is not thinking about profitability. Rather you also need to focus on the requirements to obtain profitability. There are several blogs that are profitable as well as hard to be profitable.
We would like to quote a few factors that matter while choosing a profitable niche,
A niche that is easy to attract advertisers
Is it profitable to everyone else?
How competitive is it?
Availability of affiliate programs
Availability of resources
With all these factors you will be able to find a better niche that yields you good revenue. And that's not the end of it. Bloggers need to consider another important thing before they get into the market. It is their competitors.
Unless you gather a fair idea about your competitors, you will not be able to withstand the crowd. Only through their weakness, you could move further in your journey. Concurrently you need to test your strength to know how well you perform among your competitors.
The analysis you perform on your competitor could help you to build your advantages. You gain a lot of valuable points that can be carried to your blog which indeed is your advantage.
When you make an analysis of your competitor make sure that you do not miss any of the important points. Every single feature will give you an idea of how your blog should be. It also helps you understand what is not needed for your blog or niche.
We have added a few more points to help you understand what is the purpose of knowing your competitor.
#5 Know your competitors:
Knowing your competitors is the next big thing that one should be doing. If you are not aware of them then you will not be able to sustain the market in the long run.
Why is it important to know your competitors?
It is simple, you will not be a twin of your competitor.
Do you understand what we meant to convey? We would break it down for you.
We have come across blogs that look alike. There are certain blogs that carry the same information but a little rephrasing. What is the point of generating the same information? It builds distrust among your users. Moreover, the one that provides a unique information stays ahead of the competition.
You should always be mindful of your competitor. This would avoid you from generating a plagiarized content. Plagiarized content is away from both search engines and users. Try to be more specific and unique about your information. Follow a precise way to carry your content and statistics that builds trust.
Try to put in some information that all others lack. This would interest your audience and also drive more traffic. Indeed, you stay ahead of your competitors, when you implement this strategy. At the same time, your blog turns out to be the trending one across the platforms.
Wrap up:
With these 5 simple steps, you would be able to find the best and trending niche. When you are all set with your niche, make sure you put in immense research and time to make it a successful one. Finding the best or trending niche does not matter in the long run.
How you carry them to your target audience and how you promote them on the social platforms matters. Unless you perform well to make it better you will never sustain your competitors. You got to be more effective with your content to stay ahead of your competitors. Wishing you a happy blogging journey!!!
Comments ()