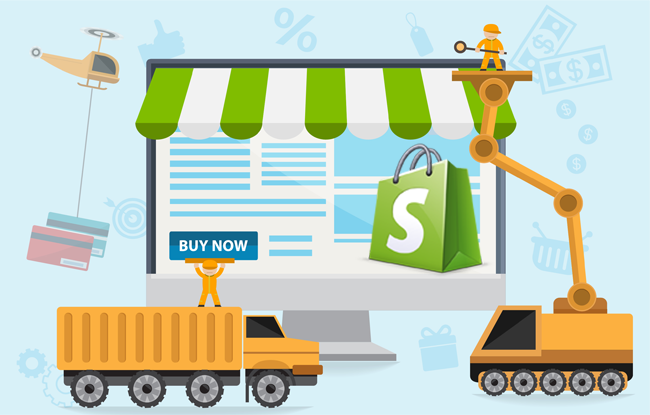 Here is your choice to attract customers like never before. With Shopify, an online store builder, you can build an attractive online store based on all your specific requirements. You can organize your products, customize your storefront, track and response orders, accept credit card payments, and do much more with no hassles at all. Shopify website is absolutely the easiest way to sell online!
Shopify has become the platform of choice for businesses ranging from small to mid-size organizations those who are looking for an effective e-commerce solution. With its proficient and easy-to-use templates, you can build an online store in a matter of minutes, and also have your website up and running in no time.
How to create your online store with Shopify?
Sign Up: When you are planning to sell your products online, then don't try out something big right away. Shopify consists of three main plans, and especially a starter or a beginner plan for less cost. The cheaper the plan, the fewer the features it provides. Initially, you can choose the basic plan, and later on, you can easily upgrade your plan based on your requirements. Moreover, Shopify provides a large number of options to meet all your needs no matter what your budget is.
Customize Your Online Store: As you are setting up your own online store, you have the facility to customize any of a Shopify theme of your own choice, by using a wide range of customization settings. Also, by using Shopify's new Theme Settings Editor, you can preview your website in real-time to view the changes that you make. Also, Shopify's Liquid templating language makes everything simple for you to change any aspect of your website.
Add Products: Shopify allows you to add your product by simply clicking on the button "Add a product". If you add a product, then you will be asked to provide the information about your product such as product description, product title, product type, product's Barcode or SKU, etc. After filling the basic details about your product, there will also be some options like "tags" and search engine options. No issues if you don't have much knowledge in SEO because Shopify automatically fills the SEO related information.
Other Settings: Shopify gives you with their own sub-domain, however, if you purchased your own domain, then you can set it up now. Next, you need to set up your shipping rates and tax rates. As Shopify was already configured with the tax rules of almost all countries, the shipping rate will be automatically configured for you by default. So, you will not be required to make any changes here.
Setup a Payment Gateway: In earlier days, accepting credit card payment was very difficult for any e-commerce website, as the process required the customers to fill so many forms and bank related information. This drawback is completely eliminated in Shopify, as it provides a large variety of payment options to choose from. If you want, you can choose to use a different credit card processor or simply accept "cash on delivery" option.  Other option that you can provide your customers is allowing them to create their accounts on your store or just do the guest checkout.
If you already have a website for your business, then you can integrate the Shopify storefront into your current website to provide a seamless experience for your existing customers. You can also customize a standard theme to capture the look and feel of any of your particular product.
So, start selling your products online with Shopify. Just choose a website design, add products, customize your store, add a secure shopping cart, and now you are ready to sell online.