Food! Food!! Food!!! Tasty! Delicious!! Yummy!!!
We are sure that no one hates food. That too a dish from one of the people's favourite restaurants – no one never dares to hate it. But unfortunately, some of the favourite restaurants are not online, and they don't take door delivery orders. That's frustrating for someone who can't order food online from their favourite restaurant. Do your want to make your customer's happy? Then this is the right time for your to act.
Why should you go online?
Here is a small infographic on the facts and numbers to help you understand the impact of online on businesses.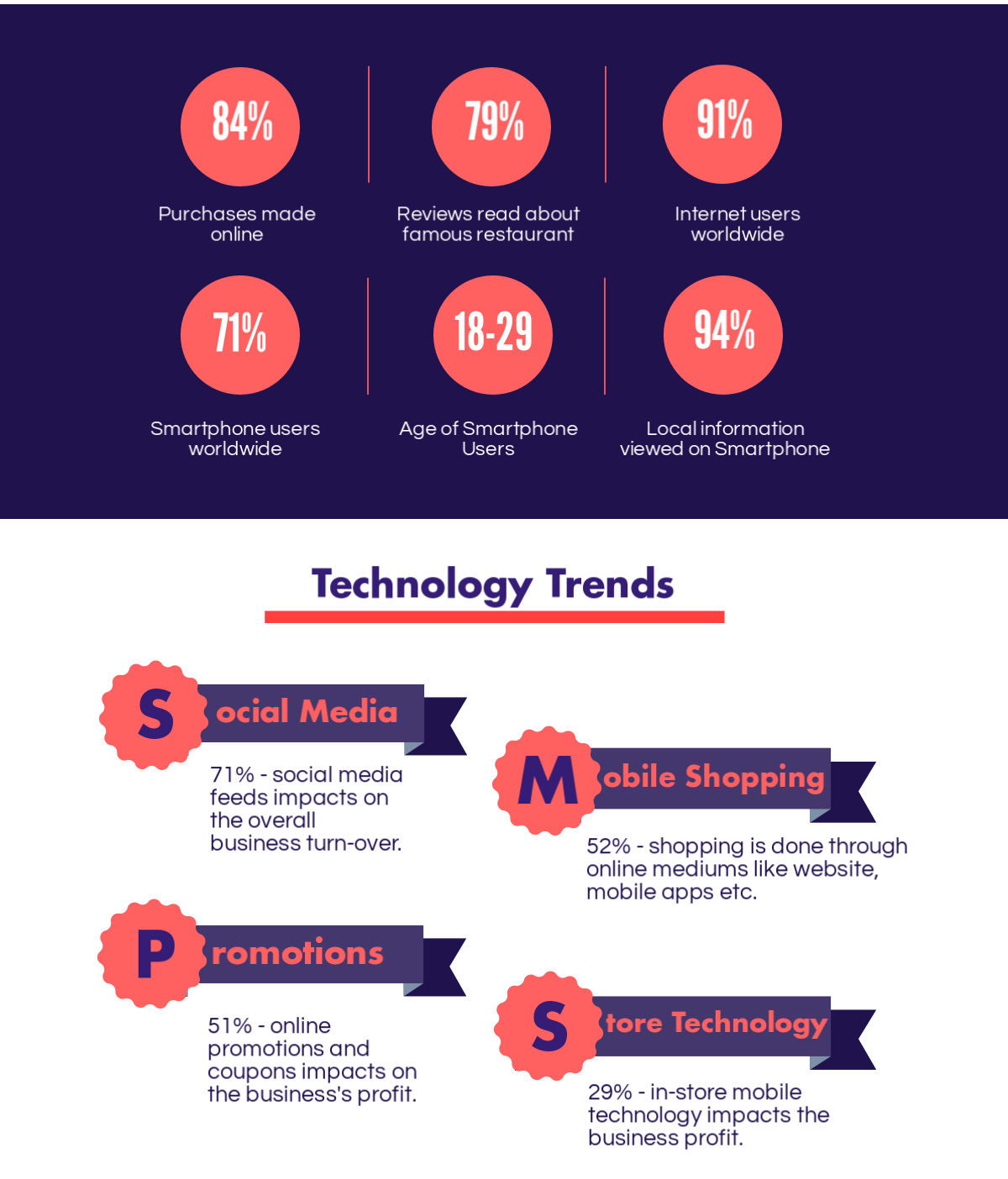 The role of Smartphone in restaurant businesses:
The mobile innovation is almost taking up everything in every aspect of the business. Unfortunately, many businesses find it difficult to keep up with the pace of mobile and application markets. Nearly 71% of the people in the world own a Smartphone, and almost everyone uses their Smartphone to surf through the internet and to make online purchases.
The following are few stats that retailer says about using mobile phones for their business
62% of the retailers say that the mobile will rule the whole of 2015 and future.
Sadly, 32% of the retailers say that they couldn't keep up with the pace of the consumer who use Smartphone to do stuff like online purchases, food orders, etc.
Nearly, 56% of the limited-space restaurants are likely to spend more on technologies like WiFi, Smartphone, Apps, iPads, tablets and more to make their customers go onboard.
As said earlier, the restaurant business is a profit turning business and is becoming the hotspot for newcomers. But, when it come to online, many restaurants owners doubt what mobile can do in their business. Here are some numbers to make you feel the advantages of having an online or mobile ordering system.
39% of the people make online food orders through Smartphones
99% of mobile payers are repeated customers
65% of people like to do mobile ordering and payments.
24% of the restaurants have their mobile app in which 47% accepts online orders and payments.
38% of the restaurants say that the online ordering system has increased their sales tremendously in which 26% of the kitchen is overloaded with orders.
Online ordering system – To sweep the restaurant industry with profit flood:
The online ordering has revolutionized the old-school style food takeouts and helped people avoid unwanted hassles. Also, it eliminated the misunderstandings of the order details and its serve specifications. The traditional call-in orders failed many times as a result of poor accent, and the special instructions are many times left out. Because of this act, the customers often gets dissatisfied and most likely move to other places. Thanks to the modern online ordering system that helped avoid everything from hassles to misunderstandings.
Business/Marketing tips for your restaurant's ordering system:
Now, you would have realized the importance and the impact of the online ordering system on your restaurant's overall business. To have a successful online ordering system deployed for your restaurant, follow the tips listed below.
One step order or checkout will allow your customers order in no matter of time.
Accept customer's reviews as they will help other people trust your restaurant.
24×7 ordering system will never miss out any order at any time.
Online menu with all your updated dishes.
Accept bulk orders to win customers.
Avoid delivery delays and errors to never disappointment your customers.
Various options to make customers select their favourite taste.
Convenient payment options like Cash On Delivery, payment through eWallets and more will improve customer's trust.
The most important of all having a mobile application will help your on-the-go customers order food online. The mobile application should have online payment and various options to make food processing easy.
Benefits of having Online ordering system:
The online ordering system has opened up many possibilities and helped customers order at their convenience. It has many advantages in its plate and here are some that you can taste.
The internet is everything. One can order food from anywhere with internet's help.
Easy and hassle free ordering avoiding the crowded queue.
Mobile app lets you order from anywhere at any time.
Special instructions help customer pour their taste on to the restaurant
Opened 24×7, so can order food at any time.
Saves money and employee cost.
Comments ()